| | |
| --- | --- |
| My Take: Targa 2005 | Todd - Friday, September 23, 2005 | 15:21 |
FORWARD
I've been home for about 12 hours now and the memories of Targa 2005 are already starting to vanish. In the next couple of pages, I'll do my best to capture the events, actions, blunders and successes that we experienced. The main feeling that I have right now is one of accomplishment; Karl and I spent the last 6 months of our lives to run the last 14 days. We ran all the stages, we didn't crash, we didn't work on the car, we finished. This is all we set out to do. Others (competitors and other participants) were not so fortunate.

As with last year, there were some pretty neat cars: lots of heavily race prepped 911s, an SR20'd Datsun 510, multiple turbocharged Hondas, a gullwing Merc, a Ferrari, etc. But my enthusiasm for the cars is truly nothing compared to my enthusiasm for the people I met this year. I'm starting to understand that it's not the hardware that makes racing addictive, it's the people that you do it with. Now that it is over, I've been googling all the people that we raced - I don't really care about their cars, I want to find out more about them: from super Honda tuner Matt Koestner to the scratch-talking John Becker. What an insane cast of characters...

The following work of non-fiction covers our departure on Sept. 8th to our return on Sept. 21st.


DAY ONE - 9/8/05
I set my alarm clock for 0500 but snoozed to 0600. The entire morning was filled with a flurry of last minute duties:


print driver/co-driver stickers for car door
cut out 814 stickers
do a couple last minute chores for work (banner ad changes and various changes for Hodgsonfarm.com website)

Last night, we went out to discuss departure times with JD 'Good Afternoon, Donation' Turner and Jon 'Stew Bum' Ackerson.



JD owns a towing company and will be supplying the trailer and the tow vehicle (2004 Hummer H2) for our trip. We will be towing his 1987 Porsche 911 Carrera and our 1992 BMW 325is (95 M3 drivetrain and brakes) with this rig.

We all agreed that 1200-1330 departure time would be ample to make it to the 1530 Ferry to St. John's, NL in North Sydney, NS. Last year we made the mistake of leaving at 0800 for that ferry; we got in at 0330 (19.5 hours total) and had to poke around N. Sydney for 15+ hours... not fun. Since we've never used the H2 to tow two cars, a 6 hour window feels safe but not overly wide.

I get a call from Karl at 0830. He has not left NYC yet. Good, I have another 2 hours to get ready to leave. I start loading the car up at 0945 with the following items:


2 wheels
4 tires
2 large bags
1 small bag
tool kit
2 brake rotor blanks
pipe insulation foam for roll cage
fire suits/helmets
safety harnesses still in the box
jack stands and a jack
etc

I forget the following items:


Bentley BMW E36 repair manual
Passport
Wheel well lining
Spare parts

With the car fully loaded, I head out to Karl's parent's house. Along the way, I stop at Laura's job and say 'goodbye' to her one last time.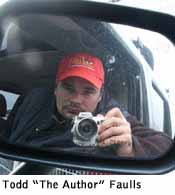 When I pull into the Apfel's driveway, Karl is already packed up and ready to go; however, we have some additional work to do on the car. We put fresh pads and rotors on the front of the car. We would have done this a couple days ago, but Brembo packed the wrong side rotor in the box so we had to re-order a replacement from Turner Motorsports.

At around 1200, Jon calls. He says that he has some "things to do" and that he is running a little behind schedule. We take a quick lunch of leftover roast beef at the Apfel house and depart at 1300. JD has already left us a couple of worried messages - "Where are you guys... You were supposed to be here at 1100... Cracks in the ice..."

We arrive at JD's house in Newburgh, NY at 1315. The H2 is already loaded up with the trailer and Porsche. The trailer has a tow-dolly 'cradle' on the back that we will be using to tow the BMW. We tried to use this last year with the Mustang and it was a fiasco since we didn't have basket straps. This year we have the basket straps, but they are not the correct ones. Something is better than nothing, I guess.

We let one of JD's towing guys hook the BMW up to the cradle. He does an admirable job hooking up the basket straps, but he hooks the safety ratchet straps to the body of the trailer... really tight. More about this later.

While our car is getting hooked up, Jon "Arthur Ponzirelli" Ackerson arrives.

BS immediately starts flying out of his mouth.



"I thought we agreed that we were leaving at 1500. I told my guys that we weren't leaving until then. I have to wait for them. They don't know how to get up to the ferry... Also, I don't think the H2 can haul this much weight. It looks unsafe.

Bob Della Rocco is on his way from Derry, NH to my house. We will be taking his 2005 Jeep up there. The other crew member, 'Joe', is driving up from the city.

I'm meeting my people at my place at 1500, we will leave from there and catch up with you on the road."



So Ponzirelli delivers his first f*ck you of the trip by backing out of the drive to N. Sydney. It's interesting to note that we all sat at a table last night and agreed to leave at 1300. Although it will be a little tougher with just Karl and myself, we've done it before and we'll be in the roomy and relatively luxurious Hummer H2.

Earlier in the day, JD sent one of his employees out to get some 8.8 bolts so we could complete the install of our safety harnesses; we meet him at the Citgo where route 52 meets I84.

We pull over along route 52 across the street from the gas station. I can clearly see a NYDOT State Trooper Van parked at the onramp to I84 east. Karl and I both note his presence and hope that he'll be gone by the time we are done with our bolt pickup and shopping spree at the Citgo.

As soon as we complete our left turn onto the onramp, our boy hits the lights.

"You can't do this. It's illegal. You need to have the entire car on the trailer. License and registrations for all these vehicles... I'm calling a tow truck!"

Oh sh*t. This guy is going to take a giant dump on our little road trip. Suddenly, the 6 hour window starts to look like a 15 minute one. Since the BMW is insured, registered and inspected, we are able to drop it off the trailer. Our rig is now legal. Luckily, the DOT trooper isn't in Robocop-mode - he lets us go with a warning and some sage advice: "If it doesn't look right, it's probably not."

As soon as we cross the New York border into Connecticut, we hook the BMW back up to the trailer.

It's a pretty smooth trip up until we get to the outer loop of 495 near Boston - there is a 35 mile traffic jam. We inputted our route into the Hummers nav system so when we get of at the first available exit, it creates a new route for us. Unfortunately, it takes us through some of the twistiest, up-and-down-hill roads ever.

Karl and I like the diversion from the interstate: every old house with some peeling paint is a potential fixer-upper with lots of character -- the tow-dolly does not like the diversion: it throws the passenger side wheel of the BMW out of the cradle/basket strap on one of our sharper turns. We get out and re-ratchet strap the car in. When we are less manic, Karl realizes that the safety straps should be attached to the cradle NOT the body of the trailer. When we make tight turns, the straps tighten up and pull the car off of the cradle.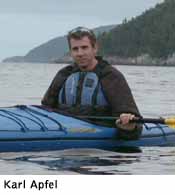 We do not become less manic until the return trip and the car throws the basket straps off a couple more times before we reach North Sydney, NS.

At around 2100, we get an update from JD about Jon's trip: he hasn't left yet because his 'guys' got stuck in traffic. He will be flying into St. John's instead.


DAY TWO - 9/9/05
The remainder of the morning is spent without incident. Karl sleeps for a couple hours while I take the 2300 to 0600 shift. Which was about the only driving I do the entire way.

We arrive in N. Sydney at 1330 - almost 24 hours after we left Newburgh. As usual, there is some confusion with our reservations on the ferry. It turns out that the reservations were booked under the wrong name. Karl was trying to straighten out that mess, I booked my passage on the ferry; one way ticket plus dormitory sleeper: $76.

Karl called JD during the reservation fiasco to try and clear things up. That did not happen; however, JD did tell us that Bob Della Rocco was at the ferry. We thought it was another one of Jon's lies, but what do you know, here comes Bob walking across the staging area!

We don't have any time to chat because the ferry has begun loading. We tell Bob to meet us in the Winter Bar onboard the boat.

We park the Hummer in the enormous hull of the ferry and make our way up to the bar. Karl stakes out a place next to the outlet and plugs his dead cell phone in.

I bought a small bag with a change of clothes, towel, toothbrush, deodorant and flip-flops. Before the boat even leaves the dock, I put on my flip-flops and take a long hot shower. By the time I get out, Bob has joined Karl and there is a round of Alexander Keith's Beer on the table. I feel like a new man.

Over the last couple of months, Bob has taken part in a few of Ackerson's hair-brained 11thhourracing.com adventures: VW Waterfest and Rally New York. We got JD's side of the story for these two misadventures, so it was nice to get the rest of it from Bob over a couple of beers.



VW WATERFEST
Last year, Jon put together a wedding video-style movie of our experiences at TNL2004; he managed to sidle US$10,000 from JD to produce it.

In order to keep JD from completely cutting him off, Jon had to come up with some ways to sell the DVD: Volkswagen Waterfest is the premier gathering of VW enthusiasts on the east coast. For some reason, Jon thought it would be a great place to sell his DVD. It was about this time that Jon roped Bob into his 11thhourracing.com scam. So, Jon 'Ponzi' Ackerson 'booked' three hotel rooms (one for JD, one for Bob, and one for Jon) and he also 'secured' a vendor area to sell/promote the DVD at the event.

Eager to sell the movie, JD agreed to the Waterfest venture. Per Jon's request, he would tow the Porsche 911 with the Hummer down to Englishtown. At some point, Jon said that the Hummer would not be necessary: he had procured the use of a prototype VW SUV to tow the 911 (huh?!). Jon also claimed that he had a trailer that was 'ready to go' to tow the 911.

On Saturday July 16th at 0700, JD drove out to a rest stop on the Thruway so it would be easy for Jon to pick him up.

0800: No show. Several phone calls to Jon.

0900: No show and no answer to repeated phone calls.

1000: JD decides that it ain't happening - goes to start the 911. It won't start.

1300: JD gets a tow from Thruway authorized tow truck.

1500: JD finally gets a phone call from Jon: "Today is just not a good day for it."

Later on, I asked Jon how Waterfest was. He gave me a short account of the event: lots of great Volkswagens, cops, flooding, girls, etc.

Jon did not go to Waterfest. He simply rehashed Bob's story as if it were his own experience.

RALLY NEW YORK
On July 24th, there was a gravel rally in Sullivan County, New York. JD decided he needed some practice for the upcoming Targa event. Against better judgment, he decided that he would take his 1990 Mustang GT to the one-day event.

Jon was also 'going to enter' Bob's 1984 VW Jetta in the event. It was under this pretense that Bob towed his car down to Jon's house a month prior... However, 'some things came up' and the Jetta is in the same place that he left it.

The event starts at 8am, so JD left his house at 6am. This would leave him plenty of time to get registered and prepped.

0700: Jon wakes up 2 hours late.

0815: He took one of his piece of sh!t cars and it broke down along the way. They had to back track to Jon's house to get another car to take to the event. JD is at the event: the way-too-low Mustang has a snowball's chance of competing in the rally.

1000: Jon didn't bring directions to the event. He is lost in Sullivan County.

1230: Jon is lost in Sullivan County

1530: Jon finds the event and it is almost over. JD is long gone.

TARGA NEWFOUNDLAND 2005
In Fantasyland: Jon decided that the 11thhourracing.com team would consist of Bob's 1984 Jetta and JD's 1987 911. To that end, Jon had one of his mechanics outfit the Jetta with a roll cage, supercharger, a paint job and tons of mechanical R&R. He also did some work on the 911. As the team owner, he would be paying all entry fees and accommodations for the drivers and co-drivers.

Back in reality: The Jetta never moved from the spot that Bob left it 3 months ago. JD's mechanic fixed the 911. No accommodations or entry fees were paid. This forced JD to make sub-standard last minute arrangements (see Terra Nova Golf Resort).



After Bob finished his side of the story, I felt doubly blessed that I told Jon to take a hike in April. If we were willing to be part of his 'team' he offered us US$1000 towards TNL2005... I not-so-kindly refused; I could imagine the ugly little strings that would come attached with his imaginary money.

By this time, we are 4 Keith's in and the 24-hour drive is starting to catch up with me. Last year, we slept in what amounted to non-reclining airplane seats. We didn't book a bed because someone said it wasn't worth it. They were wrong. The accommodations (bunk bed, blanket and pillow) aren't great but after a 24-hour drive, any flat, soft surface is much welcomed.

Bob and Karl go to their trucker's berth (a room with 5 bunks) and I make my way to the dorm -- I'm asleep before my head hits the pillow.


DAY THREE - 9/10/05
The ferry pulls into Argentia, NL at around 0500. The port of Argentia is a rocky wasteland with some industrial/oil refinery-looking structures scattered along the shores. Not the greatest introduction to NL's awesome landscape, but the large rocky 'heads' that slope down to the bay are pretty cool.

We don't take any of this in. We stay in the cafeteria ("2 coffees, please...") until the boat is docked. Once the message to disembark comes over the ship's intercom in English and French, we make our way to the Hummer. Within a few minutes, we pull out of the ferry and line up in the staging area with the other Targa competitors that were on the ferry.

I've been corresponding with some of the other BMW Targa people; this is my first opportunity to introduce myself in person to one of them. Dave Mcintyre helped send out the SOS when we were having problems putting our car together - as is usually the case, he was even nicer in person than in email!

After admiring several other competitors rides, we caravan to the port town of Placentia for breakfast at the community center. For $7, we are treated to as much eggs, bacon and taters as we can eat. Seating is a little tight in the dining area so Karl, Bob and I split up.

I sit at a table with Tony Kloosterman and his crew. They are campaigning a 2002 Subaru WRX. This crew will have an insane time at Targa 2005 - in seven days, they will win the not-so-coveted Spirit of Targa award...

Also at the table is the mechanic for Si Ford's 1967 Mercury Comet. His 2yo son keeps us entertained with his eating habits.

Karl sat at the table behind me. The notable personalities at his table were Alex Roethe - the maniac who bought a mint MB 300 SL gullwing -- and John Becker - just a maniac.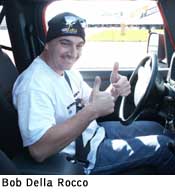 We have a lot to do today so I prod Karl into leaving a little earlier than the Targa caravan. We unload the BMW from the trailer for the 1.5 hour trip into St. John's. A couple months ago, I picked up some junk 225/50/17 tires so we could see how the wrecked M3 donor car drove; we used these wheels and tires for towing the car from NY. So the ///M330is has 235/40/17 tires on the front and mismatched 225/50/17s on the back.

It drives like sh!t.

Newfoundland roads come in many varieties. The most prominent are RUTTED and WASHBOARD. Route 100 and TCH-2 to St. John's are the rutted type. I'm fine with driving on rutted roads, but there has been a steady downpour since we left Placentia. The ruts have filled up with 3cm of standing water in spots. Since we neglected to put the wipers on the car, it is almost impossible to see where the rain has pooled.

The drive goes something like this: Speed up to 100km. Get pushed towards opposing lane. Hit 2cm of water. Hydroplane. sh!t pants. Slow down to 50km.

It takes almost 2.5 hours for the 137km trip to St. John's.

We drive directly to JD's hotel room at the Holiday Inn on Portugal Cove Road. We off-load the Porsche and proceed to Canadian Tire to get our tires mounted. If you are in a hurry to get something relatively simple done, Canadian Tire is not the right place to go. We sat around for over an hour waiting for our tires to be mounted. During this time, we watched the 'technicians' do absolutely NO WORK. Karl made good use of the time by mounting a new set of windshield wipers. These would get lots of use over the next week.

Mile One Stadium was the usual hive of activity: Cars coming in and out, people running around, cars being started then turned back off, etc. Since Karl and I like doing things at the absolutely last possible minute, we still need to finish paying for our entry. We find a very unhappy looking Frank Nossereau in the registration area. He has a line of people asking him questions and telling him things. We tell him that we will complete our registration and our first aid course then we will pay our balance.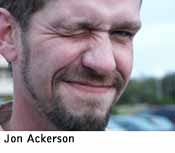 This year CARS, the licensing body for Targa, requires that all competitors have first aid training. In the tradition of Targa, we take an abbreviated first aid course. Aside from lots of stupid non-first aid questions by other competitors, we get through it relatively quickly. The highlight of the course was, Rod, the instructor. We didn't realize how funny he was until we saw him ever night with a smoke and a beer in his hand. Although the course was only 2 hours long, we still need to get our tires mounted, harnesses installed, rear window resealed, roll bar padding installed, stickers applied, tech inspections, etc. We are behind schedule.

The course is over at approximately 1500, I head out with Bob to another tire place. We ratchet strap our Falken's to the trailer and drive to City Tire to have them mounted. We shoot the breeze about cars, Katrina, New Orleans, Florida, the economy, etc with the owner of the shop and some other guy that has a lawnmower repair/rental business out of the same building. $50 + 30 minutes and all the tires are mounted and balanced.

We return to Mile One and Karl has the rear window sealed in and the roll cage padding on. We mount the wheels back on the car. While we are doing this, we notice a fair bit of play in the LH tie-rod. We apply the "don't-ask-don't-tell" theory to it and start applying the stickers. The car show has started, so random spectators come up to our car and talk with us. A kid of around 12 or 13 years helps us put the stickers on the car; his mother also helps out. They are originally from the NY Metro area (Englewood, NJ?) and are traveling around the world over the next year.

By 1900, we have the car finished except for the harnesses. We should have bought 2 of the seat belt bolts from the stock car with us. Ooops. At about this time, Ackerson arrives. He's eager to help out, so we ask him to go to the Canadian Tire to try and find a bolt that matches the one from the seat.

When I hand over the bolt, I tell him that if he loses the bolt, I will kill him.

He loses the bolt.

The bolts he does bring back are the wrong pitch. But we are able to use them on other areas of the harness mounting. The BMW has a double wall frame in some spots, so longer bolts than what Juan gave us back at the Citgo in Newburgh are necessary.

Karl, in a fit of insanity and frustration, tries to screw the wrong pitch bolts into the seats. He only succeeds in stripping out the bolt hole. He later explains to me that he's done this before and it has worked! WTF? It's about this time that I start to panic.

Out of nowhere, Dave McIntyre appears. I explain the situation to him. "I know those bolts, I have a few." He hooks us up and we are good to go. Important lesson: ask the other BMW guys before you do stupid sh!t (like letting Ackerson do anything important). We get the belts in and the car passes tech except for a fire extinguisher, which I will pick up the next morning.

It's now 2115 and we are shot and very hungry. We head over to our favorite local restaurant - Jungle Jim's. For those of you who've never been, it's like a low-budget Fridays or Chili's. Open late with sh!tty food at a decent price. Karl and I both have the fish and chips - I remember from last year that although Jungle Jim is a handsome and brave explorer, he can't cook a hamburger for sh!t. Fish and chips: good. Hamburgers: bad. I get a little pissy when I realize that the tartar sauce isn't homemade, but Karl pulls me back into reality: "It's only mayonnaise and relish, asshole."

After our meal, there is a Meet and Greet at the Martini Bar on George Street. George Street is blocked off to celebrate the End of Summer Bash. We have tickets to get in up to 2130 - it's now 2245. Karl tries every trick in the book, but they won't let him in. He cuts a deal to go to the Martini Bar to see if JD et al are still there. JD is not only in the Martini Bar, he is running it. He has a stack of BOGO Molson tickets that he is handing out like there is no tomorrow. Problem: the guys at the gate still won't let us in. I have some Canadian money so I buy two tickets to the End of Summer Bash: $20 later and we are in.

As usual, JD is chatting up some ladies with his oddball shtick: "I'm a proctologist. Here, smell my finger!" I also get to watch Jon scare off some women at the bar: close talking, bullsh!t and touching are obvious turn-offs. At some point I manage to get a hold of JD's cell; I make a 10 minute call to Laura. Everything is good, but I already miss her.

By 0330, I am totally shot. After a late night snack of McDonalds, we head to the Hotel St. John's with Bob and Jon. Surprisingly, Jon has reservations lined up.


DAY FOUR - 9/11/05
We leave the hotel at around 0730. The weather is absolutely dreadful: rainy, cold and windy. It feels like a late February day in NY.

We head over to Oscar's Restaurant on Duckworth Street. Oscar's is about 5 minutes away from the stadium. I'm trying to stay away from meat on this trip so I have the Stagehand Special sans bacon. It's basically two eggs over easy with two slices of toast - a perfect meal to start the day.

JD came up to Targa this year without a co-driver. Since it was coming down to the wire, JD agreed to take Bob on only if he could produce half the entry fee. Jon stepped up and claimed that he would pay the entry fee before the race was over.

At 0800, we are in the stadium. I run out to Canadian Tire with Bob. I pick up a wristwatch (for navigation purposes), two 5BC fire extinguishers and some hose clamps to mount the fire extinguisher. The hose clamps turn out to be too large for the fire extinguisher - oops. Cost: $75.

Once we have the fire extinguishers, we get a pass from the tech inspector. This happens just in time to go to the Compulsory Crew Briefing in the EB Foran Room of City Hall (next door to Mile One). The briefing is much faster than last year; I think they can do without the Maxxim Vacations segment though. The briefing is basically a final chance to reinforce that the journey that we are about to embark on is DANGEROUS and should be taken with the utmost SERIOUSNESS.

Next up is the group photo. As the photographer goes through the motions, I look around and wonder who'll crash first... Our time to leave the stadium is 1150. We are placed between a 1991 Suzuki Swift Gti (Richard Martin and Larry Moore of Thunder Bay) and a 1995 Acura Integra Turbo (Newfoundlanders Brian Oldford and John Harris). We caravan over to The Keg - a new steakhouse down on the waterfront and then start our transit to the first prologue stage: Pleasantville.

Last year we ran Pleasantville on the first day. It's a pretty tricky course: lots of blind acute turns in a small apartment complex/subdivision. I think the organizers are sending us a message: it's not going to be as easy as it was last year!

When we get to the staging area, the weather has not let up at all. The staging to a time control is usually a little social hour. You chat with the guys in front of you and behind you, etc. Due to the weather and lack of familiarity with our co-competitors, we sit in the car and go over the course and get ourselves ready for the first run of the race. Tommy Collingwood has done some new mods (Corvette GS heads, etc) to his 1996 Pontiac Firebird: it is now far louder than any of the other cars and it makes an awful stink. Karl and I develop small headaches from being near their car.

After about a half hour we make our way to the start line.

Three...

Two...

One...

Go!

I read the directions from the route book as Karl jams through the course. I call out a caution: "Sunken drain in the center of the road. Keep right" Karl hits it full on. Later I lose my place in the route book. I tell Karl to just "drive what he sees" (I learned this phrase from Karl Vucich last year).

At one point, Oldford's Integra gets on our ass. I tell Karl to let him get passed us. He says NO WAY! As soon as there is a good straighaway, Karl lets him get by.

In 3 minutes the stage is over. Wow. This sh!t is still crazy! The BMW sways as bad as the Mustang but it has 4 times the brakes. At no point during the stage did we actuate the ABS! The M3 brakes are 'that good'.

There is a short transit to lunch at the Cape St. Francis School. We are treated to Subway(tm) sandwiches, sodas and chili. After lunch, there are a few people standing around the hallways of the school. Standing next to the exit are Californians Peter Gaugenti and Scott Smith. When we were having our problems with the swap, Scott emailed me a couple tips.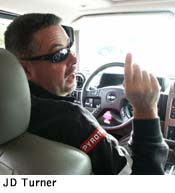 We sat with Scott and Peter for lunch in Burin last year. Also at the table in Burin was the unforgettably eccentric Mark Cotnam. Mark was rambling on about Le Mans and the good old days of open wheel racing. The California Guys started going on about Sears Point and how the residents hated the noise, etc, etc. One thing led to another and we started discussing the problems we had up to that point: broken rotors, blown clutch, terrible brakes, etc. Peter is a very knowledgeable guy; he made a comment that since we didn't flush the brake system properly, we probably saw no real benefit from our fancy $30 a bottle silicon brake fluid. This left a very negative impression on Karl ("I hate people like that!"). I kind of like super tech nerd sh!t, so I found Peter's pontificating pretty interesting.

So I walked up to Scott at the Cape St. Francis School and said, "Scott Smith? We were having some problems with our S50 swap and you emailed me. I just wanted to say thanks."

"Is your name Todd or something?"

"Todd Faulls, pleased to meet you."

Peter jumped in and introduced himself and I called Karl over. More introductions and then we shot the sh!t for a minute or two; our out time was approaching so we cut it short and proceed to the car.

The weather had actually gotten a fair bit worse than the morning. It's windier, colder and even more rainy! Getting into the cramped but warm cockpit of the Bimmer is a welcome relief from the elements.

The next stage is Flatrock. It's a 4.75KM course that consists of lots of twists and turns. Judging from the route book, I know that it will be a pretty fast course with only a handful of hard turns. While we are waiting to start the stage, there is another hold-up. This time we get to see what the problem is: team 412 in the red 1966 MG has had a terrible accident. The entire front of the car is smashed in. Without a heavy night of massaging and lots of cash, this car is finished. We later learn that the co-driver compound fractured a leg in the accident. This is the first casualty of the Newfoundland roads, speed and lots of rain.

The one good thing about the interruption is that we get to have some downtime with the guys around us. Team 812 in the 1991 Suzuki Swift Gti is in front of us. After watching them go around the previous course, we are intrigued by this little rough idling bugger. The driver, Richard Martin, says, "It's barely got an engine. But she's light." It turns out that Richard and his co-driver Larry are both into ice racing in northern Ontario (Thunder Bay). If you look at Thunder Bay on a map, you'll wonder if there is anything else to do in Thunder Bay besides ice racing! Later on, JD will inform me that he has done lots of camping around Thunder Bay and Timmons. I'll also learn from him that Timmons is where Shania Twain is from... This fact is immediately filed away in my Bin of Worthless Information. Of all the people that we met this year, Richard is probably the nicest. This is a good thing since we'll be spending a lot of time with Richard and Larry over the next 5 days.

We also get a chance to catch up with JD and Bob. We ask Bob what he thinks of the rally... He says that he feels sick. Not good. In addition to JD, we shoot the breeze with Ken Bavis and Trevor Simmons. Ken and Trevor were integral to us getting the Rustang together last year. They lined up helmets and a local guy (Shady Dave) to weld our roll cage together.

After about 15 more minutes of waiting around, we finally run the stage. Karl seems more comfortable in the car and I'm finally getting back in the groove of following the route book. Since this is a longer stage, I'm able to test out our ghetto rally computer: I mounted the stock BMW trip computer in the spot where the radio used to be. I set the DISTANCE function to count down the kilometers. One problem: it doesn't do fractional distances (ie 2.5km). I have to guesstimate our position. For the most part it works. We should have purchased a rally computer. Karl could drive twice as hard if I could tell him what's over the next crest or around the next turn...

On our way back from Flatrock, we miss a turn on the transit. Luckily, Oldford and Harris in the Integra also miss the turn. Since they are local boys, they know a back way to the next stop. We follow them to the Legion Manor. The Legion Manor appears to be a senior citizens' home. We are welcomed in for sandwiches, coffee, tea and small cakes. The social room is a large living room with lots of comfy couches and a TV. The food is set out on some fold-out tables that stretch the length of the room.

Very impressive.

On the wall, there is a faded photo of Queen Elizabeth. It reminds me of something Bob Giannou said this morning at the crew meeting: "If Queen Elizabeth herself was visiting Newfoundland, she would get no less or more of a reception than you will." Newfoundlanders are notorious for their hospitality, but for some reason I think the Queen would command a much grander reception than a bunch of grungy racers.

While making myself a cup of coffee, I am also reminded that Newfoundland is an island. As with most islands, it has limited resources: the coffee is instant and the milk is canned.

Due to the delays on both the stage, it's almost 1700 by the time we return to Mile One. We park our car next to none other than Roy Hopkins and Adrienne Hughs. Roy and Adrienne are the fastest team with a stock car at Targa. I emailed Roy a couple months back for some tips on building our E36 - he was totally cool. So I again introduced myself and paid thanks to him.

Since we were installing the belts into our car until almost midnight last night, this is our first chance to walk around and meet some of the other people. But since I'm in a grateful mood, we have some more 'thank-yous' to hand out. First stop: Bill Arnold. Bill talked with Karl for almost a half-hour while we were having our problems with the S50 swap. Bill drives a 1972 Bavaria with a Euro 3.2L engine swap. After our conversation (and especially after seeing him drive), I am struck with appreciation for someone who speaks with same precision in which they pilot an hi-performance automobile!

Next up, we drop by Scott and Peter's car. Their 1985 BMW 323is is probably one of the most prepped out BMWs at the event. Bill Arnold built this car specifically for this race for them. I ask Peter if he has a minute to walk us through the car. Karl has fun pointing out their not-so-tech windshield washer bottle. He says that the car is too low, to which I reply, "Really? We knew that would be a problem so we are running stock suspension." Peter's response, "You are kidding, right?"

We get a lift back to the Hotel St. John's with Jon and Bob. We shower and head back out to the Targa "Kick-Off" Reception at the E.B. Foran Room in City Hall.

The E.B. Foran Hall seems a bit smaller than it did in the morning. There is a pretty fair sized crowd enjoying the free beer and food. I've been saying that I wanted to eat more fruits and vegetables on this trip - this is the only night that I will actually abide by this. There are platters of raw vegetables (cauliflower and broccoli), pita bread and mustard on a couple tables. I make a few mustard broccoli sandwiches. Eventually, Bob Giannou makes a speech and introduces the mayor of St. John's.

I haven't read any of the local papers, but I did see something on the news about the mayor's opposition in the upcoming election. It seems that the candidate did something crazy on a local talk show and now everyone is up in arms over it. The mayor spent some time talking about that and he basically gave it up for Targa. Another local government official spoke. She echoed the mayor's sentiments.

After the local politicians are done talking, Jon pulls JD to the side. JD walks up to Bob and asks him to make an announcement about the DVD that Jon put together with JD's backing last year.

I've watched Bob Giannou work the crowd for two years now -- he is a very capable speaker. He approaches the podium and mumbles out an announcement that the 11thhourracing DVD will be screening at Normies on George Street at 2100 hours. I don't think that anyone even knows what he is talking about.

I feel sorry for JD.

Since I've spent the last 4 days with Karl and Bob (I have nothing to say to the Stew Bum), I look around the room for someone to talk to. Reg Reimer. Perfect.

Reg is a legend in the Toyota Supra community. He pioneered the later model Supra MK3 7MGTE engine swap into the older MK2 Celica Supra chassis among many other fantastic things. He is at Targa to provide support for Kimber and O'Kane in their 1994 Supra Turbo (in our class incidentally). I chat with Reg for about an hour and a half about a bunch of different topics: BMWs, the E36, Supras, Mercedes Smart cars, engine management, industrial mining equipment, etc. A truly fascinating guy.

After Reg leaves, I get back together with Karl, JD and Bob. Jon is off at his 'screening', so we walk down to George Street for another night of fun. However, George street is pretty beat on Sundays, so we head over to our favorite watering hole: Sirens. Sirens has 5 beers for 10 bucks on Sunday nights and there just happens to be all-nude dancers on the stage! Tonight the talent is not so good, so we drink our bucket of beer and move on to The Cotton Club.

The Cotton Club is a really cool space: the walls are square cut field stones with lots of space between them and a wooden high-peaked roof. It feels like an ancient barn. There are also all-nude dancers here too. The drinks are not as cheap. By 0300 we are back at the Hotel St. John's. Tomorrow is a long day.


DAY FIVE - 9/12/05
We give Jon and Bob a wake-up call at 0700 and we are out of the hotel by 745. I check us out since we are not going to be staying here tonight - Targa will take us to Gander this evening. We go to Oscar's for breakfast again; the service is not so good this time. We order juice and coffee all around but the waitress brings us neither until our food is ready.

I have the Stagehand Special without bacon again. Bob has the blueberry pancakes, bacon and taters. I think he also has some OJ. He does not chew his food. He simply swallows it whole like a python devouring a small rodent. After we finish eating, the waitress brings us our checks separately - something each of the places we eat at has no problem doing.

We walk over to Mile One and say goodbye to Jon ("I have some things to do." Translation: "I'm going back to bed."). JD is not in the stadium yet, we think that last night was a bit much for him; he shows up 20 minutes later. Our out-time is around 0950 again.

Before we arrive at the first time control, we stop at the Star of the Sea Shamrock Room for 10 minutes. JD and I relieve ourselves behind the dumpster in the back of the parc expose (basically a short break at a local landmark). I wonder what the locals think of all these noisy cars with drivers that piss all over the place. We are a mob of pissers in fancy loud cars.

We can see the first stage from the Star of the Sea, so we take our time and head over. The roads are starting to dry up a bit but it still looks like there could be some heavy weather. At least our tires will have a chance to get broken in today.

The first stage of the day is a 12.46KM run. We run through it without a problem, we actually catch up with Si Ford in his 1967 Comet and pass him. We didn't have an opportunity to do this last year due to our various mechanical problems. It's nice having the ghetto trip/rally computer for this stage.

We proceed to the next time control and stage up. In a few minutes, JD pulls up along side us:

"HE THREW UP IN THE MIDDLE OF THE STAGE! All over himself! All over the helmet! All over the dashboard! I'm driving my ass off and all of the sudden Bob stops reading the instructions from the route book.

Then he does it.

Puke all over the place.

Puke in his helmet.

I roll the window down and run the stage with my head out the window, gagging. This f'ing guy doesn't chew his food. There's bacon and pancakes all over the place."

At least JD is smiling and laughing about it - he looks like he is having the time of his life. Bob, on the other hand, looks half-dead and as pale as a ghost. The entire front of his fire suit is covered with vomit.

We run the next stage without incident. It's one I remember from last year. Lots of high speed straights with a couple hard turns. The tires are working great.

When we meet up with JD at the next stage, Marysvale, Bob has puked again. He looks even worse. I look through the route book before we get our start time: there is one double caution: a compression followed by a jump/crest. When we approach this spot, there are some stewards/safety marshals on the track clearing some debris, so I shout at Karl to slow down. Luckily, we crawl over the compression/jump; several other competitors aren't so lucky: Team 715 in the 88 Monte Carlo catch air and bend the rear chassis of their car, Team 408 in the 69 911 jump, spin out, crash, tear the car in half and end their Targa race and our own JD Turner blows out his front alignment on it (later he dubiously blames it on Bob's puking/not reading the instruction). Judging by the scene in Gander later on, I'm certain many other competitors developed serious problems due to the jump/compression.

We run another stage, Brigus, our first real in-town stage. The highlight of this stage is a small wooden bridge with a compression at the end. Since brakes don't work that great in the air, we almost blow the turn and take out Grandma Jeanne's nice white picket fence.

Next up is our lunch break... JD relays the puking story numerous times. It goes over very well with all the other competitors. During lunch, Bob cleans out the 911 and sponges off his clothes. He eats a very light lunch and takes some Gravol (an OTC drug that prevents motion-sickness, nausea and vomiting). Lunch consists of Subway salads and soup. It starts raining again towards the end of lunch, Karl and I retreat to the Hummer for some quiet time.

Directly in front of the Hummer, there are a couple tents set up. One has a blue Subaru WRX sedan parked under it; the car has bad body damage on the passenger side. There is a flurry of activity going on around it. I recognize the crew - they are the Kloosterman guys that I ate breakfast with at Placentia two days ago. I get out and ask them how it's going. "Good. Just doing some maintenance on the suspension." The car has a large dent down the passenger side - that wasn't there when we were in Nova Scotia! It turns out that they blew a turn during prologue yesterday. They were able to pull it back on the road and finish the stage, but the navigator broke his arm and the car sustained decent damage.

Ken and Trevor (#850 92 Honda Civic) are busy troubleshooting some problem with their car. It seems that the exhaust manifold has developed several cracks. Since the car is turbocharged, this causes it to run like a dog. They have an arc welder with them but their generator is not strong enough to power it. Team Subaru offers them use of their larger generator. Team Subaru is the unofficial support crew of all the Targa competitors...

We get back in the Bimmer and head to the next stage, Spaniards Bay. A long straight stage with some winding curves. The next stage, Chapel Arm West is cancelled so we transit on to Osprey Trail. We have lots of time before our in-time, so we walk around a bit and hang out with some of the other teams. There is a small convenience-type store (LuLu Mae's Confections and Flowers) near where we stage.

This is the first time that I see Bruce Smith, the co-driver of Team 719, get out of his E30 M3. Bruce is around 6' 1" tall and probably weighs 280lbs. In order to get out of the car, he must first lean his entire torso into the driver's seat area. Next, he lifts his legs out of the car. Finally, he gains some leverage on the A and B-pillars of the car and pulls himself out of the car with both arms. This process takes approximately 3 ½ minutes. Bruce does not get in or out of the car very much.

We finally run Osprey Trail. There is a speed restriction zone for the first 1/3 of the course; we poke along at the posted 80km but half way through a silver 911 comes blasting passed us.

It's JD. I'm a bit confused but I tell Karl to hang back. We eventually see some marshals shooting radar.

I think JD doesn't know that we are in an SRZ.

We finally pass another SRZ sign and JD slows down. I'm really confused now. I thought that we would see an END SRZ sign so we pace JD at 100km. Once the boys from Thunder Bay catch up with us, I realize that the SRZ is over. We bring it back up to speed, but we miss the Targa time by 2+ minute but. we still make the trophy time.

We catch up with JD at a gas station outside of Clarenville on the long transit to Gander. I ask him what the hell happened back at Osprey Trail: "I didn't see the start of the SRZ. I was going full speed - 100 to 110mph - through it. I'm in deep sh!t."

The final stage of the day is Gander South. This was one of our favourite stages from last year. This TC is basically a very hard drive through a classic suburban sub-division. When we finally get to Gander, there is a short delay. The usual social scene greets us; Dan (co-driver #510 1972 Volvo P1800ES) Coomber's wife is handing out some GORP. I gratefully take a handful... nuts and trial mix! Yummy.

Since there is a bit of a delay, Bob and I need to make our way up to the desk to get the proper in time. Robin Stoyles (driver #1054 84 VW Jetta) is having some problems with his car. It's cranking but it won't start. Since Bob is a VW nut, we go over and see if we can help. Last year, Robin was hanging around the event in his flat black Jetta - Karl and I really liked the look of the car. It was part of the inspiration for our low-gloss paint job on the BMW.

Robin tells us that his alternator wore out and there are none on the island. He is using a jump box to power the car - it has enough juice for the ignition system, but not enough to start the car. Bob and I roll the car back about 50 meters and start pushing. Robin lets the clutch out and the car starts up.

Karl and I blow through the Gander stage without missing a single turn. I have a simple method for navigating in-town stages: Don't use the instructions. Just cross off the turns as you make them on the map that is included in the beginning of the route book TC section. I call it the GT4 Method.

As we pull into the stadium, the engine is making a low ticking sound. Oh sh!t. We open the hood and it sounds like it is coming from the top end: Exhaust leak? No. VANOS? No.

We ask Alex Brosseau what he thinks it might be. "All S50 engines do that after you beat on them. Fill the engine with oil to the FULL point, then add another quart of oil." Later, Dave McIntyre corroborates this. I seem to remember reading this tip online, too.

At the end of each day, there's a crew of kids at the stadium that wash your car. You must drive your car up to the wash area. I make Karl get the car washed. This means that he must sit in the car for an additional 20 minutes; I walk around and survey the damage from Targa 2005: Day One.

Already crews are starting to work on cars:

Pacione/Mach3 has cordoned off an entire quarter of the Gander Community Center parking lot. With four or five RVs and trailers parked in a square, It resembles a medieval fortress.

Ken and Trevor have a small tent and a large crew. They are repairing/replacing their broken exhaust manifold.

A silver WRX wagon (#922 Rotelle and Holowsko) had an off today. It is sitting on the tow truck with a pretty bad wack to the nose. Later, we'll see the crew desperately trying to fix the damage. They will fail.

Scott Giannou's black 911 is undergoing some sort of repair. We later find out that the alternator failed. Several other 911s are undergoing major and minor repair.

Hopkins and Hughs are getting ready to swap the engine in their E30 M3 due to some bent valves.

It feels as if I've stumbled upon a village of lunatics who enjoy working on their cars as quickly as possible in dark, cold, wet, exposed conditions.

Later on, Robin Stoyles tells us about his alternator repair:



"I was working on my car next to Roy Hopkins. Roy drove back to St. John's to get a spare engine (for his M3) out of his trailer. Watching him work was amazing.

At one point, he asked me, 'What's wrong with your car?'

'The alternator isn't working. The brushes are worn out.'

'I have what you need.' With that, Roy went over to his box of spare parts and pulled out a wadded-up, greasy rubber glove. He unfolded it to reveal a shiny alternator brush.

'The brushes in Bosch alternators are all the same. This one will work for you. Disassemble the alternator case and install this one.'

Amazing, huh? The alternator is working fine now."



Just before we ran Gander south, JD inspected his front tires. They were nearly bald. The compression jump must have blown out something in the front end of his car. We meet up with Newfoundlander Jason Cahill for the first time in Gander. He makes some phone calls and gets JD an appointment at the Goodyear garage.

Since Bob has had an especially rough day (and Jon has not checked in at the Gander Hotel yet), Karl, Bob and I go back to the Albatross hotel to get cleaned up. After we are cleaned up, we walk over to the Gander Hotel to see if we can find Jon.

We see the H2 parked out front and as we walk into the lobby, we see Jon at the desk:



"Sir, we require your credit card to check-in."

"I, um, lost my wallet today - it had all my cards in it. It's been a really tough day today."

"Well... OK. But I will require your card before you check-out. Fill out this form so we know which vehicle is yours."

"Hmmph. It's the only HUMMER in the parking lot. Let me go out and get the license plate number anyway..."



With that, we pop out of our hiding place in the lobby. Later, we have a good laugh about "Jon's" Hummer and we wonder what kind of scam he is running with the 'lost wallet' routine.

The Goodyear City Tire has two new tires to replace JD's bald ones and the mechanic says that he'll look at the camber problem. Also in the shop is Scott Smith. He scrunched his header pipe on one of the stages with his too-low E30 BMW; the mechanic is replacing the pipe when we walk in. We take a look at the underside of his car. I like the fancy (BMW OEM) skidplate and the chains on the rear control arms to keep the much-lower-than-stock-springs from falling out.

Scott has also bought along a square 2" thick piece of polyurethane; he wants the mechanic to insert it into the spring perches. This will raise the car a bit and, hopefully, prevent any further damage to the undercarriage of the car. We shoot the breeze with Scott a bit.

Pretty soon it is almost 2300, we leave JD at the garage. We haven't eaten since the GORP at Gander south -- I wanted to go to Ches's for their legendary fish and chips but it has closed. Bob, Karl and I find a small pizza shop on the way back to the hotel... When most people grow tired, they become extremely lethargic. Not Karl. He becomes hyperactive and extremely short attention span. He tried to order the pizza and I swear the guy behind the counter thought we were a bunch of meth addicts that were going to rob the place. In rapid fire, he asked these questions: "Who wants what? A pizza with onions? With pepperoni? With pepperoni and onions!? No wait. Who likes what? Which size? Is cheese ok?" Bob and I are ready to fall asleep, so we just looked at each other. I finally said, "We'll take a large cheese pizza."

We finish the pizza and there was about a ¼ of it left over. Later I give the pie to Bob and tell him to "make sure Ackerson eats - it is part of the reason that he's so demented. Too much alcohol/not enough food!" We drop Bob off at the Gander Hotel with the pizza and head home for the night.


DAY SIX - 9/13/05
We meet up with JD at the stadium in the morning. Karl went bonkers for the breakfast at the Gander stadium last year so he was really looking forward to it this year. He had French toast and I had the eggs and hash browns (hold the bacon/ham/etc).

While we are waiting for our breakfast to be prepped, world-famous journalist Jim Kenzie joins the line. He has entered his factory-backed BMW Mini Cooper in the unlimited class just to show the world how bad-ass a lightly prepped/well-driven car can be. His competition: Pacione's completely custom 2004 Mustang and the Daimler-Chrysler factory-built racecar 300C and Charger. It's a classic battle: 225hp FWD econobox vs. 600hp RWD muscle cars. Kenzie is currently at the head of the pack.

Over breakfast, JD tells us that Jon called him up at 0300 and invited himself over. It turns out that there was only one bed in the room he booked and he did not want to share it with Bob (or vice versa I imagine). He knew JD had a fold out couch in his room so he slept on that.

Somewhere around 0430, Jon starts yelling: "You cocksucking motherf*cker! I'm going to kill you! F*ck sh*t die!" JD jumps out of bed -- scared for his life! It turns out that Jon is suffering through his nightly DTs. Eventually, one of Jon's many personalities wins and JD and Jon return to sleep.

We have about an hour before our out-time, so we do the usual: mill about, walk around, take a sh!t, etc.

I loved the Gander stage from last year, so I've decided that I will drive this stage. This is my first time driving a Targa stage. I give Karl a quick breakdown of how to navigate and we head out.

As we make our way out of the stadium, we see Jon and his film crew (Jason Cahill and Mike Whatshisface) walking through the woods near the course. I think of Goldilocks and the Three Bears for some reason... Very odd.

The stage start is just outside of the stadium. Three, Two, One, GO! I jump the gun a little bit but there is no time to worry about that. I drive very conservatively through the stage, but we still make our trophy time.

After the stage is complete, I trade places with Karl for the long transit to Norris Arm. This is a high-speed stage with a couple tight turns thrown in. The coolest thing about it is that we travel along the water for nearly the entire stage.

Just before the Botwood stage - another in-town stage, we have a short parc expose. Ken and Trevor tell us that they had fellow competitor Matt Koestner re-tune their car with Crome software (ECU programming for Hondas). "It is running 30% stronger than it ever did. It feels like a different car." Matt is in the same class as Ken and Trevor (Class 8 Modified) - he could have easily told them that he would do it after the race, but he didn't. Several times, while Ken and Trevor were troubleshooting their car, I saw Matt and his crew/girlfriend helping out.

Today, we are positioned behind the raced-out Styrofoam White1966 Porsche 911 driven by Mark Scott and Chris Paine. We passed them on the Norris Arm stage and we will probably pass them again. Yesterday, the Porsche had several problems and today we see Chris checking various components on the car numerous times.

The final stage before lunch is Leading Tickles. This stage starts-off as an in-town stage then becomes a monster high-speed course: several long straightaways where many competitors will be able to hit 200km. The best is a long straight that leads to an uphill left around a rocky cliff. In order to let cooler heads prevail, there is a 3KM Speed Restriction Zone in this stage. It's nice because it gives us an opportunity to refocus on the high speed course coming up. After the SRZ, we manage to pass the '66 Porsche and the '94 Mustang GT. Both of these cars appear to be having problems. Later we find out that the Mustang had an off earlier in the day and it was causing the fuel system to randomly shut-off.

The scariest turn on Leading Tickles is an uphill crest followed by a fairly sharp right turn. This would not be that challenging, but the road narrows about 20% on the inside and as I've noted before, Karl loves to cut turns. As we summit the crest, I feel the slightest shift in the back-end when our right side wheels are in the gravel. This is very scary stuff at 80mph.

By the end of the course, we arrive in the town of Leading Tickles. We pass a few more classic cars -- most notably, the vintage Jag pretty close to the finish line.

It appears that a lot of other drivers are doing a similar thing. This makes it very difficult for the referees to get an accurate time. Rather quickly, a small traffic jam forms around the time station. Finally, one of the officials says that everyone will get their times and we should continue on to lunch.

Of all the places that we take lunch, Leading Tickles is, by far, the most beautiful. It is a small park with picnic benches, food service and washrooms. To the north, there is a huge pine tree covered mountain; to the west and east there are black stony beaches. The westerly one is easily accessible from the park. It looks out on several small rocky islands and beyond that the ocean. Visitors to this spot can climb a wooden staircase up the northern mountain for a truly spectacular view.

Karl and I grab lunch. I opt for the moose stew and Karl gets the fish and chips. Pretty shortly, JD arrives with another wild tale:



"I was at the starting line and when I let off the clutch to go, the car didn't move. The axle popped out... all the bolts backed out and the axle wasn't seated anymore.

So I tightend down the bolts with a vice-grip and we were able to get going. By that time, CAR 99 (Car 99 announces the all-clear/race over signal to the residents) had just passed me. They already had my card, so I figured I would run the stage. After I passed CAR 99, the next car was the RCMP cop with his lights on. As I got behind him, he pulled over so I figured I would pass him too.

When I got to the end of the stage, the RCMP pulled me aside and read me the riot act. He said I might be 'done for the day'.

I asked him, 'Why did you let me pass, if it wasn't OK?'

He said, 'Because you were coming up so fast, I thought you were going to rear-end me.'"



That's two strikes for JD: Speeding in an SRZ and passing a cop! To add insult to injury since he missed a stage, he is no longer eligible for his big trophy plate. Amazingly, JD has made his trophy times for the last two years. If he made them for all three, he would have received a GOLD trophy plate.

Bob and I hike up the mountain and take in the scenery. For 360 degrees, it is a fantastic view. You can look down at the parking lot and see the racing rabble. I can clearly see Jon next to JD's car and someone (Jason) underneath it. After 15 minutes on the mountaintop, we descend back to the park. JD's car is back on the ground and Jon and Jason are gone.

Leading Tickles has added a few more cars to the injured roster:

The Smith/Guagenti E30 monster blew an axle. They are out for the day.

The Kloosterman Subaru is undergoing some sort of transmission or differential service - one of the crew are dumping gear oil through a filter and scavenging out some metal bits. Bill Arnold informs me that the transmission lost 2,3,4 gears. The entire parking lot smells like gear oil.

We suit up and head back out to do Leading Tickles back the way we came. It's funny how you have absolutely no recollection of the course even though you ran it in reverse an hour and half prior... We make our way to Port Leamington (the end of the stage) and pass by the spot where we put the Mustang in a ditch last year. Karl actually slides the tail end of the car on the same turn. I don't know if this is his way of giving the turn a big F- YOU or if he likes repeating his mistakes.

Alex Brosseau is comes up fast on us in the town, we let him pass on a short straightaway. He is an incredibly fast driver - it's fun to watch someone driving 10/10 directly in front of us. He pulls away from us and we, somewhat, maintain the pace with him to the finish line.

The next stage is Grand Falls-Windsor. Another in-town stage and we are again behind the raced-out Styrofoam '66 911. This should be fun.

About halfway through Grand Falls, we catch up with Chris and Mark in the Styrofoam 911. Since it is an in-town stage, we have some pretty dramatic/intense moments. At one point we are battling it out so intensely that it feels like a video game! Small narrow streets with lots of hard turns... The Porsche likes to make WIDE turns. Karl LOVES to cut his turns (maybe he thinks he's still driving a VW Rabbit?). At one point, the Porsche swings wide for a right turn and Karl cuts in for the pass. I could clearly see Chris Paine's face directly in front of us while we were going ~50KM in a hard turn. Awesome! After a couple more close calls, we dial it back and just follow Mark's lead. By the time we do this, there are less than 100 meters left in the stage.

We run Bishop's Falls without incident (unlike the Jarvis' 2002 which ends up in a ditch) and proceed to Norris Arm East. After Norris Arm, there is a parc expose at the end of the course near a hairpin turn. We finally have the opportunity to watch several of the cars run.

Tom Paynter in the WRC Subaru WRX STi are the most impressive: 100mph into a hairpin, slam on brakes, hit emergency brake, spin around turn continue on. We also get to watch JD do the turn. He is no Tom Paynter.

Since we hung out at the parc expose so long, it looks like we might be a little bit late getting back into the stadium in Gander. We do 150km for a bit on the TCH and barely make our in time. JD parks his car next to ours in the stadium and we do a quick inspection. It seems the driver's rear wheel is making clunk when the car is rocked. The E36 is notorious for bad wheel bearings, so we jack it up and release the parking brake. It no longer clunks. Problem solved. Day 3 of racing and the car is holding up great!



We are ready to leave the stadium by 1930. Targa is throwing a dinner bash at the Hotel Gander, so we are going to head back to our hotel's to get cleaned up. After we discuss our plans, a guy walks up to me and asks if he can get a lift back to the Hotel Gander. "Sure. As long as you don't mind squeezing in with 5 other people."


"My name is Darryl Deagle."

Darryl came to Targa with the MG team as crew. Unfortunately, they crashed on the first day and were now both in a hospital back in St. John's. To fill his time, he was volunteering with the time control teams.

While we are dropping Bob, Jon and Darryl off at the Hotel Gander, we see Bill Arnold. I made a remark about Smith/Guagenti's axle shaft: "How does one locate an axle shaft for an E30 in Newfoundland?" His response, "Networking! I call two friends and they each call two friends and it appears on your doorstep." Bill rocks our world again!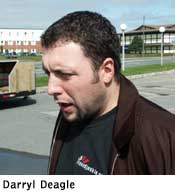 We shower and head back to the Hotel Gander. We see Darryl in the lobby and we head into the dinner. In addition to food, we get 2 BOGO Molson tickets each. I immediately buy two Black Horse beers. I give one to Jason the Parking Guy. Jason is responsible for making sure that the cars are parked properly during lunch and at the end of the day. He does an awesome job. Our motley crew heads to one of the tables in the back.

Darryl tells how much he hates being a volunteer with Targa. His chief complaint is that his co-workers are a bunch of weirdos. I tell him that he is more than welcome to join our crew for the rest of the event. As the dinner progresses, everyone warms up to Darryl -- especially JD. I think he might have found his long lost son.

While we are sitting at the table, we see Bill Arnold at the food table. Why is he smiling at the food? He takes a seat at the table with a blonde trophy bride. Wait-a-minute, that's not Bill Arnold, that's that guy (Peter Klutt) from Sports Car Revolution and Dream Car Garage! He is a dead ringer for Bill Arnold. Strange.

We are joined by Team Wonder Bread from the touring class. They seem like nice guys. I ask them how they got Wonder Bread to sponsor them. "We just asked." It turns out that they are pretty good at TSD (Time Speed Distance) events - they will win the modern division in Touring this year.

Also joining us is Robin Stoyles and his father. He tells us the Jetta/Hopkins alternator brush story and his multiple other mechanical woes - it turns out that his clutch is broken... But it is in the shop getting put together as we speak.

Bob Giannou takes the stage to announce that the Talent (or lack thereof) Show is cancelled since most of the talent is down at the stadium working on their semi-destroyed cars. He also informs us that one of the communities that we will be passing through tomorrow had a boating accident: two of the four men on the fishing boat drowned. The event chaplain, the Faster Pastor, will be holding a small vigil/service during one our parc expose/car show there tomorrow.

After a couple more beers, the day starts to catch up with me. We head out to a nearby bar, but it's empty. Since I have a key to the room in my pocket, I quietly break off from the group and head back to our hotel. Karl does the same 10 minutes after me.


DAY SEVEN - 9/14/05
We walk over to JD's hotel and eat their complimentary continental breakfast. Jon has slept on JD's pullout couch again, so he is milling about too. Luckily, Jon exhibited no multiple personality conflicts last night. We go to the stadium, get our out times and leave.

We only run two stages in the morning: Musgrave Harbor and New Wes Valley. The latter is notable because that is the stage we missed because the Mustang ran out of gas last year.

New Wes Valley is a cool stage. It's kind of an in-town stage with quite a few long straights. The road has also been recently paved so getting up to speed is a little less harrowing. The Dodge Neon piloted by Mark Cotnam's co-pilot from last year ends up on its roof after a crest.

We are reintroduced to dried roast beef at lunch today. I've found that it goes down a lot easier if it is coated with ranch salad dressing. I kind of like it this way, actually. At lunch, we are seated next to the Volvo P1800 guys and their wives. Not surprisingly, Dan Coomber's wife takes immediate offence to something JD says about marriage. We enjoy their playful back-and-forth banter throughout lunch. JD has fun telling everyone his 'passing the cop' story. We are having so much fun, I forget to keep track of our out time. We leave a few minutes after our scheduled out time, but the next stage is cancelled so there is no worry.

We transit to Greenspond. This is another notable location for us: we ran out of gas here last year. Due to the cancellation of the previous stage, we have 45 minutes before our in-time. We take advantage of the break to do some hiking. Karl and I scale a small rock cliff and walk down towards the cove. The terrain turns very marshy so we stick to the high spots. The ground here is covered with thick, soft, moss-like vegetation; we enjoy the early afternoon sunlight and cushy ground by taking a 20-minute nap.

We hear the commotion of the race begin to fill the air so we make our way back to the car. Greenspond is a very short and tight in-town stage with lots of elevation changes and blind corners. Very challenging but very fun. The best part of the stage is a blind left turn that leads up a very steep hill.

The next stage is Eastport. This is the community that the fisherman who perished were from. Before the course, we are welcomed into the local Royal Canadian Legion and the Faster Pastor says his piece. Eastport is a fairly straightforward stage but it does have one very acute turn with a small drop off on the inside of the turn. I tell Karl not to cut the turn, but he cuts it anyway.

The final stage of the day is Clarenville. This is another in-town stage that features lots of elevation changes and a few fast straights. We blow through the stage and proceed to the Clarenville Stadium.

JD's main reason for bringing Jon this year was to have Jon sell DVDs of the production that JD financed last year. We are in our 4th day of racing and Jon has made absolutely no effort to sell anything. The night before, I told JD I'd help him sell a few as long as he did not give any money to Jon.

Jon came to Targa 2005 under the pretense of shooting another movie and selling some copies of last year's. He bought one video camera and no crew. He did not bring a laptop or a DVD player to show last year's movie.

Darryl came to Targa to be a crew member for the MG team. He brought a laptop, a digital camera and a video camera. He also bought cash and valid credit cards. He is more prepared to shoot a movie than Ackerson.

I ask Darryl how his first day as part of our crew was. He tells us a funny story:



"Jon and I stopped at a gas station because the Hummer's fuel light was on. Jon went into the gas station and tried to pay with his credit card. It was, probably, declined. He came back with the 'there was a problem with my card' excuse and asked me if I would get the gas this time. I had to put $100 in the Hummer.

But other than that it was good. Jon did a lot of complaining... He does not like you or Karl."



We secure an extension chord from the stadium staff and plug in both of the laptops. We put a laptop on each of the cars. The stadium shares a parking lot with a COOP supermarket; I run in and buy a large yellow (yellow is the color of performance, afterall) poster board and a Sharpee magic marker. JD makes a sign that reads:
TARGA 2004 DVD
ONLY $40 $20
We get the DVD playing and we head to a local fish and chips joint. Jon and Darryl are left to sell DVDs. When we leave, Jon is nowhere to be found. I get the distinct impression that he wants absolutely nothing to do with selling the DVD. I tell Darryl to keep whatever he sells.

After a couple wrong turns, we find the fish and chips place. It occupies the other half of a sports bar. Bob and I get the Fish and Chips platter. Karl and JD get the Seafood platter. 15 minutes later, 4 gigantic plates of fried food are brought out to us. "The regular customers get the kid's portion...." the waitress tells us a little bit too late.

We shoot the sh!t and eat for about an hour then head back to the stadium. To our surprise, Jon is actually trying to sell the DVD. I thought he would be out sleeping under a tree or at the bar down the street. Darryl says that they have sold 2 DVDs.

JD, Karl, Bob and I take over the sales of the DVD while Jon, Darryl and Jason go out for dinner. We get to shoot the breeze with some locals and some of the other competitors. Within an hour, we manage to sell 6 DVDs.

By 2100, the stadium is winding down. Darryl, Jon and Jason have returned from dinner. Somehow, they have managed to pick up another screwball, Mike James. Since I only made hotel reservations for St. John's and Gander, we asked if we could crash with JD for Clarenville and Marystown - two of the more isolated spots on the trip. But drunk Jon has the same intention and that is not good at all. We head over to the Hotel Clarenville to see if they have any vacancies.

"Nope. But let me call one of the B&Bs for you."

I speak to the woman who owns the B&B and say that I'd like a room for the evening. After she gives me directions and the rate information, Jon comes stumbling in.

"Looks like I need to talk to her, too."

This has gone from bad to worse. I picture Jon, Jason and Mike piling into the bed and breakfast at 0200, good and sh!tfaced. Which is hysterical if you aren't a guest or a 'friend' of the sh!tfaced individual. While Jon is inside making his arrangements, Karl and I boogie out to the Hummer. JD says that we can stay at his hotel, so we get ready to leave.

As we are leaving, we see the crew out in the parking lot. JD says that the drivers (Bob, Karl and I) are staying in his hotel room and that the crew will need to fend for itself. I feel bad about leaving Darryl with Jon, but he knew what he was in for... Besides, they'll probably have a good time tonight - if you think getting piss drunk and possibly getting into a fight are a good time!

The Targa event has grown quite a bit in the last year, as such the organizers have had to secure more lodging. Unfortunately, there is not a lot of lodging in Newfoundland. We are staying at the Terra Nova Golf Resort. It is approximately 30 minutes outside of Clarenville.

During the drive, Bob starts looking for his Day 4 (tomorrow) route book. He can't find it. Karl says that Jon was looking for a Day 4 route book at the beginning of the day. We can only imagine where it went.

The route book is an important component of the race. Without it, you are lost in the transits and more importantly the stages. You can get another one, but you are assessed a penalty.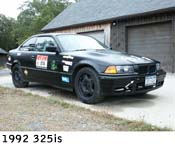 We drive for what seems like an hour but we eventually make it to the Hotel. Before we head into the hotel, we search through the Hummer for the Day 4 route book... no luck. Karl and I wait outside while JD checks in. We wait 5 minutes than head up to the room - the Golf Resort is a pretty nice hotel... much better than the Hotel Clarenville.

After we get situated, we head to the bar for '1' beer. The always entertaining Alex Brousseu is at the bar nursing a beer. We shoot the breeze about racing, etc for a while. After I finish my second beer, I head back up to the hotel room to call Laura.

I figure everyone would be up before my half-hour phone call was through. Wrong.

I head back down to the bar and the guys have secured a table. There are 3 or 4 empties in front of each of them. JD is making passes at the middle-aged insurance saleswomen at the table across from us. I have another 2 beers and everyone is ready to turn in. It is a little after 0100 and we need to be up by 0530. Karl and Bob sleep on the floor while JD and I sleep in separate beds.


DAY EIGHT - 9/15/05
Before we leave the Golf Resort, we go through the Hummer one more time for the Day 4 route book. No good. As we get off the TCH to pull into Clarenville, JD takes the exit a little bit too fast. The Day 4 route book slides across the Hummer's super deep dash.

We have a very long transit before the first stage. We stop at a gas station, refuel the car and get a couple of coffees. It's nice to be on the road this early - there are barely any other cars on the road except Targa cars. As we approach the staging area, we miss the last gas station with true hi-octane gas so we stop at the next low octane one. The parking lot is filled with Targa cars. While we are getting gas + octane booster, we watch a dozen or so other Targa cars drive by.

Since the transit was so early and long, we will have breakfast at the small village of Harbour Mille. On our way into the village, I realize that we are driving on the first stage of the day. In an hour's time, we will be racing on this road. It consists of long windy roads with the bay on the left and a rocky cliff on the right.

When we get to the town, we line the streets of this tiny fishing village with our cars and have breakfast in a small community center. In the two years of Targa, this has been the best start of a day yet. After breakfast, I walk around and chat with a few of the other competitors. The father and son Esseltines are campaigning an SR20DET-powered Datsun 510 that I have been dying to check out. I shoot the breeze with them for a few minutes. Their car has been placed in the Unlimited class.

I tell them that they should have argued that it belonged in modified. The car uses the same philosophy that Bill Arnold applied to his car: take an old chassis and stuff it with stock high-performance late-model parts from the same manufacturer. The 510 has a fairly stock Nissan SR20DET engine, Nissan 240sx transmission, Nissan 280zx rear-end, Nissan 300zx (Z32) brakes and hubs. These are all items that can be found in any import junkyard...

Bob and I take a short hike around the village of Harbour Mille. The hike consists of a walk passed the water and up a craggy slope. As we are walking down the slope, we pass Roy Hopkins walking up. It's definitely nice to have some quiet time before the race.

As we are coming off the hill, we hear the first engine firing up. We get back in the car and head to the starting line. We are directly in front of JD today. We burn through this stage without ever seeing JD in our rearview mirror. During the in-town portion of the stage, we almost take a wrong turn down someone's driveway, which would have been catastrophic. As we approach the finish line, we see Alex Brosseau in our rear view mirror - he has passed JD and caught up with us. Great driving.

The next stage is Frenchman's Cove. This is where the Mustang's clutch blew last year. Luckily, the BMW is running great so far. During the Harbour Mille stage, we experimented with getting closer to our trophy times than our targa times. Since the trophy times are much easier to make, they are not as difficult on the car or driver. For Frenchman's Cove, we take it nice and easy until JD catches up with us. We battle it out during the in-town part of the stage, but let him pull away once we are back in the straights.

The next two stages are Marystown South and Fox Cove. I get a little bit lost in the log book on the Marystown stage and just hang on for the ride. At one point, I'm so lost that I just wave at the spectators. Karl doesn't like this - "What the hell are you doing!?"

After these two stages, we break for lunch in Burin. Last year, Karl and I made friends with some of the local residents: Karen and Michael Hollett. As we parked the car for lunch, Karen's older brother, Steven, tells us that we "shouldn't go to lunch here. Go anywhere but here. Karen is waiting for you down at lunch." This was a part of the trip I had been looking forward to: the girl with a crush on Karl.

Burin is the town with the best view on our trip. It consists of a small clutch of houses overlooking a glassy bay. On one side of the bay, there is a church; on the other, a large rocky hill. The place where we eat used to be the fishermen's storehouse - there are still some lobster traps stacked above the restrooms. Lunch consists of dried roast beef, various cold salads and mashed potatoes.

Karen is walking around the storehouse with a journal-type book - It looks like the guestbook you write in at funerals, weddings and bed and breakfasts. She is collecting signatures of all the drivers. When she gets to our table, Karl chats with her for a little while - I sense that she is a bit shy.

After lunch, we stand outside and look out on the bay. Karen's younger brother, Michael, starts hanging on me and trying to wrestle. It's kind of weird so I ask him to stop. We look down into the water trying to spot some well camouflaged sea life. We see lots of starfish and mussels. As well as a couple small fish that I've forgotten the name of.

There is a 3 piece band (guitar, accordion, drums) playing traditional Newfoundland music. The players are all under 17 years old. The music is good, but a little bit too loud. Last year in Burin, this was the end of the road for us - the Mustang's clutch had finally given up the ghost. It was nice to be able to simply enjoy the scenery and our new friends hospitality.

We go back to the parking lot and take a quick look at the car. We are able to fix the broken passenger side window - it turns out that the window had pushed through the pocket at the bottom of the door panel. Once the door panel pocket was removed, the window operated correctly.

The effects of the night before have caught up with JD - he is taking a light nap in his car. He is The Wolf.

Rick MacLeod and Bob Pacione are sitting on the hill overlooking the parking lot. They are The Lieutenant and The General.

Kevin Young and his crew are wrenching on their beleaguered, sputtering 71 Datsun 240Z. They are The Lawnmower Mechanics.

Slowly, everyone makes their way back to the cars and we begin the Burin stage. The Burin is a longish 11KM slog. Towards the end, there is a horrendous clunking sound coming from the passenger upper strut tower... The car is not handling any differently so we complete the stage at speed. We pull over shortly after the checkered flag - Dave McIntyre's crew is parked along side the road. They take a quick look at the car and so do we. We cannot figure out what is making the racket. Karl is muttering about the car being a piece of sh!t, blah blah blah.

We decide to drive the next short stage (Fortune) as slowly as possible. Since we do not have a rally computer, this is very difficult. We miss our Trophy time by 10 seconds -- No plate for us. Karl is bitterly disappointed. I don't really give a sh!t about missing the time. I am more interested in finishing the race than anything else. What makes our loss even more difficult to accept is that the car is NO LONGER MAKING THE SOUND! Later on, we theorize that the upper strut bearing got a little bit heated up from being under the bonnet of a flat black car in a sunny parking lot for almost 2 hours. That's Targa.

We transit to the next stage, Frenchman's Cove North. We BS Scott Giannou for a bit. Scott gives us a little balm for our wounds: "I've been in all 4 Targas and I never won a Trophy Plate... The goal is to finish, boys." There is some idle chit-chat about going to Targa Tasmania. $5000 just to ship your car there -- yikes!

While we are waiting for our start time, Matt Koestner pulls up in his 1995 Integra. There is a bit of black smoking pouring out from under his hood. It appears that his turbocharger's oil return line blew out and sprayed oil on the exhaust manifold. The oil then caught on fire. Later, we will see him in the Marystown parking lot wrenching on the car. He notes that it's an impossibility that the braided stainless steel oil return line would blow out. Again, that's Targa.

We finish Frenchman's Cove without incident - we are still a little bit spooked about the bearing, so we lay off. We play tag with JD for a little bit of this stage: it's lots of fun. Again the memories come back as we finish this stage - this is basically where the Mustang's clutch broke last year. As we glide passed the pebble turn off after the checkered flag, I breath a little easier. Even with the noisy strut bearing I think we will finish Targa...

The final stage of the day is the reverse of the earlier Marystown South stage. The sound is completely gone, so we decide to have at it on this stage. Without the need to make our trophy time, we hang back and wait for JD and Bob to catch up with us. We spend a good half of this stage flat-out, side-by-side in very narrow city streets. There are a couple spots, that I'm convinced that we are going to take out someone's house or hit a curb at 140kph. The final 2 straights are the wildest 30 seconds of our entire 2 year Targa saga.

Our cars need gas, so we go to the gas station before our In at the arena. I double check the in-time and we have 3 minutes to get there! Karl stops pumping the gas (we have about 2 gallons in) and we speed off to the Arena. We get there just in time. Karl returns to the gas station and goes through the car wash ritual. In the meantime, I mill around the arena and stretch my legs.

About 15 cars are being patched back together in the parking lot. Last year, we were one of the teams working on our car here. It feels good to be more or less worry free. There is still the noisy strut bearing problem to contend with though...

After our cars are tucked into the arena, I start shooting my mouth off about the SRT8 300C:

"It's funny that it took Mercedes Benz to build the ultimate American car. They never would have/could have done it with out the Germans! Chrysler sucked, blah blah blah."

"I'm responsible for building this car. I'm Dan Knott, the head of the SRT group at DiamlerChrysler."

I hastily insert my foot in my mouth.

We jack up the front of our car and start fiddling around with it. There is a small but noticeable clunk from the upper strut bearing when the wheel is turned back and forth. Scott Smith and Peter Guagenti see us working on the car so they give us there assessment: Peter says, "Your radiator cap isn't tightened all the way. Look at all the coolant spray on the strut tower." Sure enough, the cap has 1/8 of a turn left in it. This explains the coolant smell and slight loss of coolant over the last couple of days.

Since the radiator wasn't a big concern for us, we recruit Roy Hopkins to take a quick look at the car. He agrees with our strut bearing diagnosis and notes that even if it does fail completely, we should be able to nurse it through to the end.

The SRT8 300C is sporting some damage from its trip into the ditch on the Burin stage. Ackerson is triumphant - He helped pull the Chrysler out of the ditch with JD's Hummer. Naturally, he half-jokingly asked them for a "towing fee." The Chrysler team did not have a good day today... the other car, a Charger SRT8 also went into the ditch much harder. Later we see it sitting on a flat bed: at first glance it doesn't look too bad. The most obvious damage is to the rear drivers door; it looks as if someone neatly cut out the entire panel. Since it is up on the flatbed, we get a chance to look at the front undercarriage. The engine has a huge hole in the bottom end and the crossmember looks like a pretzel.

Karl, JD, Bob and I leave Jon with a stack of DVDs and the signs we made in Clarenville, and head over to the Captain's Table for some more golden foods.

The bar/restaurant is filled with Targa competitors. We drink Quidi Vidi and eat fish and chips. Three young women approach our table and tell us that they are selling raffle tickets to benefit the family of a friend who died in a car accident a couple months ago. The somber announcement is meant with a "I'm-a-proctologist... Do-you-wanna-smell-my-finger?" From JD. We each buy 5 bucks worth of raffle tickets from the girls but we leave before they do the drawing. We return to the stadium to collect the Hummer and Darryl and head to our accommodations for the night: The something-or-other Cottages.

We drive about 15 minutes outside of town, down 3 dirt roads and into a small cluster of cottages by a large lake. The cottage is a small 2 bedroom and a kitchen affair. I am absolutely beat from the day's travels, so I claim one of the bedrooms -- I offer the spot next to me to anyone who wants it, but no one obliges. Karl sleeps on the floor again and Bob decides to sleep on the small couch in the kitchen area. JD naturally takes the other bedroom - after all he is paying for the cottage. Darryl and Bob are, somehow, not tired so they decide to go back to Marystown for some fun and games.


DAY NINE - 9/16/05
When I wake up the next morning at 5am, there is a deep fog coming off of the lake. I can make out a huge kid's slide about 15 feet offshore - it looks like some strange relic left by an advanced civilization. To increase the odd feeling, there is a small, domesticated rabbit hopping around our yard. I approach it and it doesn't run away. While I'm petting it, JD comes out and starts laughing - "What are you doing? It could be rabid!"

Bob and Darryl got back to the cottage at around 2am. Bob slept on the couch and Darryl slept in the Hummer. We wake Darryl up and reload our gear: we will be returning to St. John's tonight. It's the last day of the race.

The day starts with a 2 hour transit to the first stage. Due to our slight technical problems yesterday, we are positioned behind the older classic cars. Translation: slower cars. During all of the stages today, we will overtake one or more of these cars. In some cases, we will pass nearly all of them!

Directly in front of us is Dan Coomber and Gord Ross in their bright orange 72 Volvo. The car is running very rich and burning a bit of oil - driving behind them gives us a small headache. When we go to pass them, we are behind the bright orange Studebaker which smells even worse... The officials have warned us that this foggy wet weather is great for spotting moose. Great, that is, if you are not going 130mph!

The first stage is a 26KM course that only has 3 directions in the route book. I sit back and let Karl do the driving. We blast passed a couple of the classic cars and duke it out with the guys in the Suzuki Swift. This is more or less the rhythm for the remainder of the day.

The second stage is cancelled so we transit to Placentia. This is where we ate our welcome breakfast after the ferry trip on 9/10. I'm already a bit sad (and a bit relieved) that the race is almost over. The weather has taken a turn for the worse: it is alternating between torrential downpours and light rain since the end of the last stage. We are back on the Avalon Peninsula where it is always raining.

While we are waiting to start, a disgruntled local pulls up in his pickup truck and asks "what the hell is going on!? This is the only way into Placentia!" We shake our heads and tell him to talk to the official... The driver of one of the (many) WRXs in the event tells us that his car is basically running on 3 cylinders from the abuse of the last 5 days. There are only 5 more stages left in the race.

Placentia is one of the most challenging courses so far; the soaking wet road surface ratchets up the pressure a fair amount too. The first half of the stage consists of mostly rural high speed roads with lots of turns and crests. The second half is solid in-town action. These two halves are divided by a drawbridge with a small toll booth or operators booth in the center of the road. As we pass over the bridge, I remember driving over it when we left Placentia on the 9/10. After the bridge there is a brick wall that dictates a hard 90 degree left turn. We make it through the course without catching anyone until we get passed the bridge. True gentlemen, Gord and Dan move aside and let us get passed them. We finish the stage without further incident and park the car at the community center.

I can hear the race continuing all around us, so I head over to the 90 degree left turn and get another rare chance to watch the Targa competition. I chat with Dave Macintyre's crew for a bit while we watch each of the cars come in. The wildest turns are performed by the vintage Mini and the Macleod and Pacione Mustangs.

After a bit, Alex Brosseau makes his way over to the viewing area. We watch a couple more cars take the sharp turn. There is a short lull in the action so Macintyre's crew asks Alex if he saw Dave or Ross at the parking area.

"Oh sh!t, no! Dave and Ross had an off - they were backed in a ditch the last time I saw them. It didn't look too bad."

"YOU'RE KIDDING... RIGHT?!"

"No. I'm serious."

With that they run off to their support vehicle and start making preparations for the damaged M3. The Macintyre off is actually good news for Karl and I: we are now in 3rd place in our class. In benchracer voice: Had we hit it a lot harder over the last 5 days, I think we would have been in 2nd.

Shortly afterwards, the Jarvis BMW 2002 comes barreling into the turn. They jam the brakes and come within 2 feet of hitting the brick wall. One problem: the car stalled. They have been having a restart problem for most of the week - without Matt Koestner around to give them a push start, they are dead in the water. Also this turn is not the best place to break down.

Alex Brosseau jumps over the barrier and starts pushing the 2002 by himself. Myself and a small group of other racers jump over and join in on the effort. We get the car going up to about 15mph and let go.

It doesn't start.

All the time, I'm thinking about how Dr. Bob Pacione came flying around that turn. I decide that the 2002 is in a good spot and jump back over the barrier. "Come on - we can push them to the finish line!" Alex Brosseau disappears around the corner with a couple other insane competitors pushing the disabled 2002...

I head into lunch. Karl has saved me a spot across from JD and Bob. We eat a thanksgiving-style turkey dinner - complete with gravy and biscuits. With the wet cold weather and the exhilaration of pushing the stalled 2002, I am ready for a nap.

I look out the window and I see the yellow E36 M3 of Ross and Dave up on a flatbed. It is barely damaged: the rear bumper cover has a small tear in it and the rear passenger tire has separated from the wheel. They will be back in the game before lunch is over. Blowing the last stage before lunch is particularly bad: you receive a penalty for the stage and another penalty for missing your in-time. They are now off by well over 20 minutes.

The fourth stage of the day is a long 40KM course -- the rain has let up a bit but there is still some fog left to contend with. Within 2 minutes of leaving the start line, we pass the ancient Volvo. 2 minutes later: Silas Ford in his 64 Comet. 2 minutes later: we come up to the 66 Corvette (whose co-pilot we are convinced is senile) and the white Jaguar. They seem to be having a little duel. We dust the Corvette and Jag with no problems. Just as we pass them, we enter a speed restriction zone. We can see the orange Studebaker about a ¼ mile in front of us, but we cannot pass him. At the end of the SRZ is a right turn down a zig-zag goat path. The road is barely wide enough to accommodate the car and the surface is so cratered that we dare not go faster than 40 mph. The Studebaker doesn't want to go faster than 30mph so we have a two-car traffic jam until we make the right back onto RT 100. It takes us a good ½ mile to pull passed the Studebaker at wide open throttle - by far one of the faster 'classic' classic cars competing at Targa.

We finish this stage with the drop dead gorgeous 1957 Ferrari 250 GT about 1/8 mile in front of us - the Ferrari was made for this stage. We are unable to catch him.

The next three stages are all similar to this one: long high speed sweeping straights. This is a nice cool down from the last 5 days of hardcore stages. The final two stages of Targa are a classic Targa courses: tight, fast and slippery.

Since it was easy for us to pass the vintage cars on the long courses, we had no problem following them. But with these last two stages, the course tightened up considerably; so we got our in-time then pulled over to let the boys from Thunder Bay in the Swift be in front of us. They have had no problem pulling on us during several stages so it's doubtful that we will catch up with them.

Towards the end of the Conception Bay South stage, we come upon the Swift trying to make a pass by the oblivious 66 Corvette (Team Senile). The guys in the Swift were still on track for their Targa times, so being stuck behind the slow poke Corvette was a huge problem. After the race was through, the Swift driver (Richard Martin) was irate - he missed the Targa time buy 5 seconds. He asked us if we saw what happened and if we would back him up on his complaint. "NO PROBLEM! That would have been us, if you guys hadn't gone in front!"

For the final stage of the race, the pouring rain has returned. I recognize the area we are in right now, a rich American doctor has built a nouveau castle along the coast. We came out to look for it last year after Targa finished. This stage has lots of elevation changes and lots of sharp turns. The elevation changes are great because the rain is so hard now that small streams have begun to form in the middle of the road. It is on one of these hills, we come the closest to crashing during the entire race this year. We roll through the finish line with a nice dose of adrenalin flowing through our veins...

The TV2GO guy asks us what we thought the most challenging stage was... "THIS ONE! Although Leading Tickles is still one of our favorites..." We make the short transit to the final in-time area and forfeit our last time card. We get chummy with all of our competitor buddies, drink hot chocolate, eat some cookies then grab a couple beers from the adjacent community center. For some reason, JD starts in on his "I'm a Republican" shtick. My response: "You are more of an anarchist than anything else."

After about an hour at our final staging area, we return to St. John's, park the cars down by the waterfront and head up to George Street where they will announce the various winners of the event. Last year, the finishers parked their cars on George Street. Since the event has grown, it is not possible -- we are a little bit disappointed since that was one of the things that stuck in our mind from last year.

We immediately grab a couple of beers and watch Bob Giannou do the champagne shower thing with the winners. We accept a dinner invite from the other BMW teams in Targa: Peter Guagenti and Scott Smith, Roy Hopkins and Adrian Hughes, Bill Arnold and Tamara Hull, Alex Brosseau and Bruce Smith. If we return to Targa next year, I think we will need to bring a BMW. The amount of support and knowledge that this small group bring with them is more valuable than any amount of horsepower or handling prowess.

After dinner, we spend the evening going from bar to bar with Peter and Scott. I take a cab home at around 2am. The rest of the gang comes in a bit later.


DAY TEN - 9/17/05
After 6 days of racing, we are exhausted. There is a charity autocross at the NFLD Government Center but we can't seem to get up the energy to head over to it. At around 1300, I take our car over to Signal Hill for a hike. The LOW BRAKE PAD LINING idiot light is on - it came on during our last stage of the race. We thought it was just a glitch. I think we actually burned through a set of pads in one week. Amazing.

Signal Hill is the end of the transatlantic cable. It is still an important satellite uplink area today. There is a 3 mile hike down to the rocky shore and back up to the building that sits at the top of the Hill... There are wooden stairs and a boardwalk to make the descent and subsequent hike fairly easy. I complete the walk in about an hour. The end of the trail lets me out on a small crooked street that is directly on the water. There are small 3 and 4 story brightly painted wood houses along the waterfront. Some have shops devoted to arts and crafts such as pottery or knitting in them. All seem to have a small slip or dock in the water - very charming.

The crooked street puts me back at an area near the road that I took to go up the hill. Unfortunately, it's a 45 degree angle up the hill and I need to get back to the hotel. I flag down a cab and he gives me a lift to the top of the hill. This was the best $5 I've ever spent.

After I return to the hotel, we head out to a Mexican restaurant on George Street. Our party consists of JD, Jon, Bob, Darryl, Karl, Jason Cahill and his wife. We sit at a large table in the far corner of the restaurant.

On the other end of the table, Jon "Hollywood" Ackerson is chatting up his grandiose plans with Jason Cahill. During the conversation on our end of the table , I catch small bits of the nonsense from the other end of the table. As a side note, Newfoundland is known for many things... Mexican food is not one of them.

We return to the hotel and we start making preparations to attend the Gala Dinner. I haven't shaved for the last 10 days so I look like an escaped mental patient. I carve a small goatee out of the mess on my face and I still look like a lunatic.

Since no one looked at an itinerary, we arrive about 20 minutes late. We mingle with the other competitors at the open bar for a bit. I get a chance to talk to Bob Esseltine about his SR20'd Datsun 510. He tells me that he and his other son have recently returned from Japan on a R32 Skyline GT-R buying expedition. "It's hard to find clean examples - they are very popular for road racing. We were lucky enough to pick up an unmolested 1994, that should be arriving any day now." I briefly chat with the other Nissan guys there, too Bob's son Chris and Kevin Young. They are talking about a friend with a Pulsar GTi-R that would make a great candidate for Targa...

The open bar closes a bit too early and we make our way into the dining area. I drink a bottle of wine and start benchracing talk about winning 2006. Karl gives me the smackdown: "You sound like Ackerson, shut up."

This year, there is a charity silent auction for a bunch of local stuff: from t-shirts to native American soap stone carvings. Cool stuff -- souvenir shopping should be fun this year! The award dinner draws to a close (Bill Arnold, overall winner; Team Kloosterman, Spirit of Targa, etc) and we head over to the Martini Bar for another Targa sponsored event. The place is absolutely mobbed with people - since it is Saturday night, George Street is starting to pick up, again.

Even though there is a large celebration going on, there is a little bit of sadness in the air. Targa 2005 is history.


DAY ELEVEN - 9/18/05
JD departs at 6am with little fanfare. He will be back in Newburgh by 12pm today (Sunday). We will not be back until 2pm Tuesday.

Since Targa is now officially over, we have some time to spend doing other stuff. We drive out to Cape Spear and check out the lighthouse and battlements. There is a good solid rain falling so we don't spend too much time there. Afterwards, we head out to Cape St. Mary. There is 2 mile unpaved road that leads to a large concrete helipad over the ocean. Again, the rain shortens our stay outside of the vehicle, but it is nice to see these places once more. The long wheel base Jeep Unlimited is pretty capable in these conditions.

As we are driving around, we hear a loud bang from a corner of the city. When we return to the darkened Holiday Inn, we realize that a transformer has blown somewhere. After a few hours, the power comes back on - we sit around and watch TV until the night falls.

We have not seen Jon since Friday night. He has the Hummer. This is not good.

Karl, Bob and I eat a pretty good steak dinner at The Keg down on the waterfront; as we are finishing up our meal, Ackerson sidles into the dining room. After dinner, we head out into St. John's one last time - tomorrow we will be boarding the ferry at midnight.


DAY TWELVE - 9/19/05
After a breakfast of gooseberry waffles at small dinette, we spend the morning shopping for souvenirs: Duckworth Street and Main Street are the centers of our attention. Last year, I made the mistake of buying Laura a 'grand matronly' sweater - it had 2 large puffins on each side. Although it was handmade and cost a bundle, it did not go over very well.

This year, I'm focusing on jewelry. I pick up a large chunky silver ring set with the local mineral Labradorite. The stone is a translucent green color - Laura will love it. Before we left the hotel this morning, I made a 12:30 reservation at a Sea Kayaking outfit in Bay Bulls. We are a little late in departing from St. John's, so I call the kayaking place and they say that they will hold the tour for us.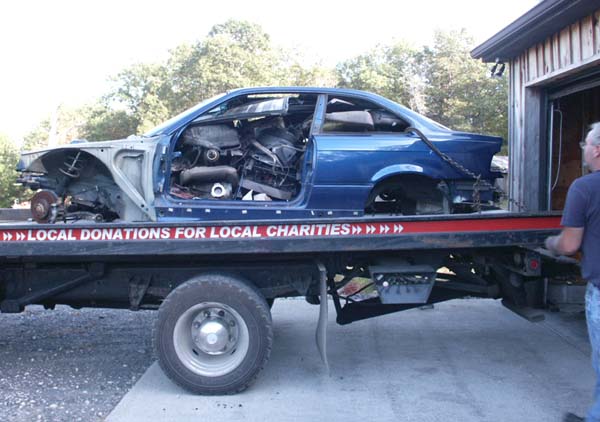 (229)
| | |
| --- | --- |
| Low-Gloss Bimmer | Todd - August 30, 2005 |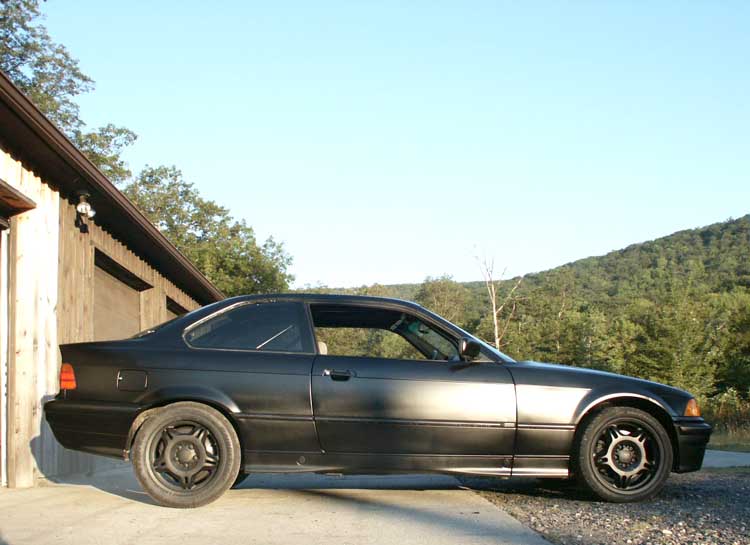 It's starting to look like a race car.
| | |
| --- | --- |
| 7 Days Left… | Todd -August 23, 2005 |
Here's every possible thing I can think of in no particular order:
Get car running properly. Install new MAFs/clean ISV/etc
Compress Bolsters on seats
Install rug
Finish install on headliner ('oh-shit' handle)
Get passenger seat installed correctly (inner track is bent)
Install brake vents
Install new brake rotors/pads/lines/fluid
Remove splash guards/dust shields from brakes
Get ABS working properly (swap computers and check grounds)
Find/Rewire driver's window switch
repair window-up sensor on driver's door
replace door handle on passenger door
Re-install rear window
Remove window trim from M3/Install onto 325is
Weld in sunroof panel
Prep and Paint 325is
Finish rollcage install/Bolt together cage.
Install harnesses
Mount/balance tires
Install frame brace
Get spare parts together
Troubleshoot temp gauge (swap VDO box from M3??)
Straighten steering wheel
Replace coolant/water with distilled water and Water Wetter.
Install jack/wheels/firstaid kit/fire extinguisher/etc (we might want to get these items from the Mustang)
Secure battery
Get spare keys made for doors and ignition
Test-fit fire suits and helmets
Cap off emissions tube from gas tank
Re-Chip DME
Install DME and trim/waterproof panel
Check all fluids including diff and trans
Install windshield wipers
Install rollcage padding
| | |
| --- | --- |
| Overwhelmed | Todd - Friday, August 14, 2005 |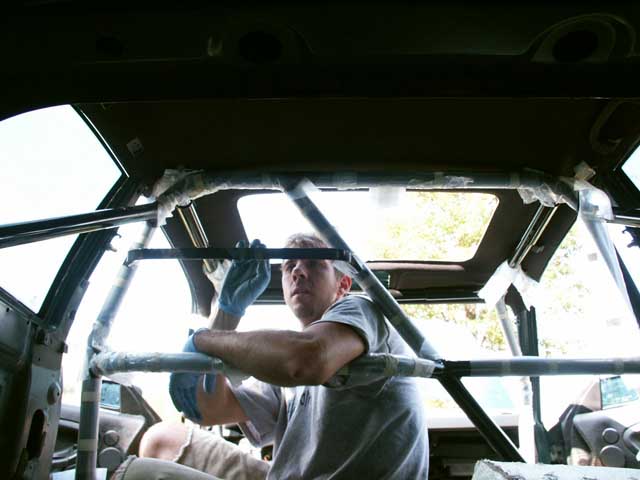 Karl works on installing the rollcage.


As we approach the final days leading up to Targa 2005, there is a growing feeling of "WHAT THE HECK DID WE GET OURSELVES INTO!?"

We've gone severely over budget and it feels like we don't have much to show for it.

Karl made a sage remark today, "We are trying to do something on half the budget in half the time."


Although we got the car running, it's not running right.
We can't afford shocks all-around.
The golden goose (Audi) has turned into an albatross.
We still need to pay for entry and lodging. I'm bringing an Aerobed and a tent just in case!

What I've come to realize about racing is that the cost of entry is extremely expensive. Our 330is will have cost us approximately $8500 when we finally get it all together. Although that figure is a good value, it is still alot of cash for two average joes to float.

I've also learned that like most complicated/expensive activities, there is never enough money. Since Karl and I knew we could spend around $8K, we built a car that cost us $9K. For half the original figure (and less than half the time), we could have done maintenance, safety and performance mods on my 91 Sentra SE-R and raced that. Would it have been as badass? Probably not. Would we have felt the challenge? Nope.

So, what do you get for all this expense? Is it money thrown out the window of a fast moving car?

Not really. What's the price tag for adventure? Not the safe, handheld-cruise-ship-style adventure. Real adventure -- where you have no idea what's going to happen until it's all over.

Last year, Karl said that Targa was NOT a vacation. I completely disagreed with him. Targa demanded ALL of our attention, stamina and determination -- things that the daily everday rarely or never fully demands. Ideally, a vacation should allow you to 'get away from it all'; if shattering your brake rotors at 125mph (and fixing it afterwards) isn't getting away from it all, I don't know what is.

On the positive side, we will, hopefully, have a car that we can liquidate for $8-10K when we are finished. But after the last 6 months, it'll truly feel like blood money.
| | |
| --- | --- |
| Deep Fried DME | Todd - August 1, 2005 |
We spent last Wednesday night retrofitting the EWS II system into the 1992 325is. Amazingly, we got the EWS to work. But the car still had the same problems: no spark, no fuel, no DME signal and a buzzing main relay.

At 3:30am, we decided it would be best to sleep on it and think about all the things we've learned about the E36 electrical/electronics system.

Over the next day, we both agreed that the problem was not in the body wiring (a sentiment echoed by Bill Arnold, et al) rather it was in the engine harness/DME.

On Friday, we tested all the grounds coming out of the DME for continuity and solid ground.

All of the wires checked out. Everything was pointing to the ECU/DME.

We cracked open the back of the DME and inspected the pins closely. #6 (shield ground) and #28 (inj ground) were both burned out.

It seems that we rested the DME on the jump point at some point. #28 controls the ground to the crank sensor so that was a definite problem. We were able to repair #28 but #6 was not accessible.

We reinstalled the 'repaired' DME back and turned the key to the ON position. No more buzzing main relay. The air stabilizer made a low hum.

This was a new development!

Karl cranked it for a second...

#2 Coil pack is making spark. I smell fuel from the bottom of the car.

Everything works.

We tighten down the clamp on the fuel line and the BUH BUH BUH BWAAAAAAA (sound of I6 with no exhaust).

Unfortunately, it is throwing code #1215 (MAF sensor failure)... Hopefully, this is due to the absence of pin #6. We shall see once we install a new 413 DME.

We test drove the car on Sunday and it's running kind of shatty -- which is to be expected with no MAF signal. We were unable to beat on it properly due to this condition and the new clutch. We'll report back once we've worked out these problems.
| | |
| --- | --- |
| Elektronische Wegfahrsperre | Todd - Friday, July 24, 2005 |
Our ///M330is has hit a major roadblock.

Wiring.

In the early 1990s (or 1980s if you use a Macintosh), the computer industry came up with the term "Plug-and-Play":
Plug-and-Play
 1. Hardware or software that, after being installed
("plugged in"), can immediately be used ("played with"), as
opposed to hardware or software which requires configuration.
The ///M330is is not plug-and-play.

After we plugged the X20 connector (body to DME wiring harness), the main relay made a buzzing sound (opening and closing very quickly). No spark and no fuel. The DME won't even throw a code via the trusty 5 pumps of the gas pedal.

Not good at all. Since the 92 325is didn't have the EWS II system, I ordered a TMS Conforti chip with EWS Delete.

The relay did the same thing after the TMS chip install.

We have a wiring problem. I ordered the Bentley manual and downloaded the ETM pages off of www.bmwtechinfo.com ($25/day!). We looked at the diagrams and the engine bay for a couple hours. Time for some REAL help.

Karl called BMW guru, Bill Arnold and I emailed Dave Macintyre.

Dave kindly passed my email onto a group of BMW tech nuts (among them, a couple of other fellow Targa competitors).

The general consensus is that the problem is the EWS II system (or lack thereof). Bill said that we should retrofit the EWS II system into the 325is. Luckily, the ETM has a great diagram of the EWS (the Bentley manual has a good one too).

Tonight, Karl and I will be pulling an all-nighter. Hopefully, we can get the car started... Pictures to come!
| | |
| --- | --- |
| Roller | Todd - July 22, 2005 |
We finally got the car back together enough to roll out of the garage. We still have LOTS of work to do over the next 48 days... I'm starting to get worried:
get car finished (yikes)

weld in sunroof
figure out EWS/wiring issues
hook up fuel lines
hook up/bleed brake lines
replace H20 pump and t-stat housing
replace all belts
tighten down a dozen different little things
compress bolsters on vaders
install rug, headliner and glovebox
install radiator support
install bumpers

sell Audi
pay for entry
pay for hotel
order roll cage
install roll cage
order brakes/SS brake lines/rotors/suspension
install brakes/SS brake lines/rotors/suspension
order tires
track down another 17" M3 wheel
break-in clutch
break-in car
order fire suit and helmet
prep and paint the car
pack a big bunch of spare parts
| | |
| --- | --- |
| How Much Does It Cost To Build A Race Car?: Part 1 | Todd - July 21, 2005 |


And we are only 75% completed!
| | |
| --- | --- |
| Common Problems | Todd - Friday, July 17, 2005 |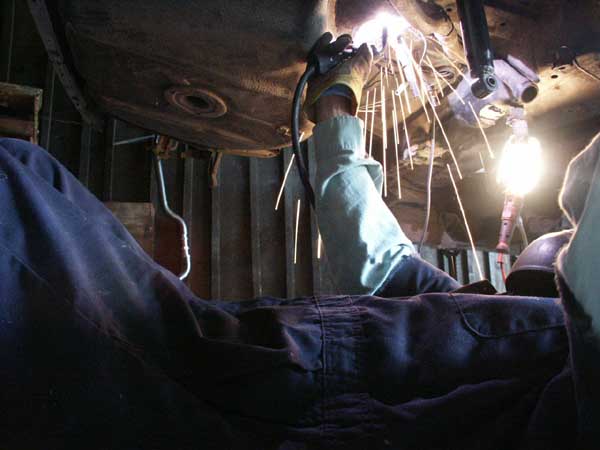 The 1992-1999 E36 BMW was afflicted with several problems from the factory. Chiefly, very weak sheet metal on the suspension mounting points. After a couple years of use the rear subframe mounting areas can BREAK OFF. Other trouble spots are the rear upper strut tower mounting points... the struts can punch through the top of the mount. Although, many manufacturer's products have design flaws, BMW failed to correct this VERY SERIOUS one in the E46! I think this is a bit embarassing for a company with BMW's reputation... Anyhow, the 325is forward passenger rear subframe mount was torn completely out of the car when we dropped the subframe.

Moving on to the engine, the S50/S52 engine found in the M3, has a nut that holds down the oil pump gear. The nut has a tendency to loosen up. After the nut loosens up enough, the gear stops spinning -- catastrophic engine failure follows e few seconds later.

Another bunch of fun with the early E36 models was BMW's use of a plastic water pump and thermostat housing. When plastic is exposed to heat and antifreeze, it gets brittle and eventually shatters. Again, catastrophic engine failure (if you don't watch the temp gauge).

These things are not good for a race car.

We corrected all of these problems while we were putting the car back together. The oil pump nut got some lock-tite (bottem end of motor looks BRAND NEW), we welded up the rear subframe area and we'll be installing the metal water pump and t-stat housing next week.

If all goes well, we'll have the car running and driving by next weekend!

Thanks to David McIntyre, fellow BMW nut, we found out about another trouble spot on the M3 -- weak rear control arms!
| | |
| --- | --- |
| 325is Teardown Time Lapse | Todd - July 2005 |
| | |
| --- | --- |
| M3 Teardown Day 1 | Todd - June 2005 |
| | |
| --- | --- |
| Running & Driving... | Todd - June 2005 |

Last week, I picked up a set of wheels and tires for the M3 -- knock-off LTWs and a pair of junkyard tires. I know it's not exactly race-spec equipment, but we wanted to test drive the M3 before we dismantled it. Although Karl heaped insults on me for my constant whining about driving the car, I wanted to make sure there were no other surprises before we went through the conversion.

Although the M3 was hit very hard on the A-pillar, it drove like a champ! We were doing 75-80 mph on tight back roads -- this would be a seriously life-threatening activity in the 1992 325is. The brakes are incredible on this car: we did several 60-0 stops and it felt as if we were under the influence of some supernatural force from der fatherland. No dancing ABS brake pedal. No smoke. No drama. Just tons of euro-stopping power. The motor is also a drama-free deal: it simply pulls harder and harder until it reaches its glorious 7K redline. It's a little weak on the low-end, but who cares... If we wanted torque, we would be driving a late-80s Mustang GT! The final component of this car that bears mention is the chassis. There are absolutely no groans, shakes, shimmys, creeks or flexes evident. This is especially impressive from a car with a curb weight of less than 1400kg and pretzel-shaped a-pillar!

Overall, I feel that the M3 is an extremely capable car: from the carved-from-billet chassis to the hit-your-face-on-the-steering-wheel brakes, this car is awesome.

After our test run, I backed the car into the garage. This is the last time it will ever move under its own power.

Cue the violins and fire-up the Sawzall®!

PS. You can see more pics of the M3 here: http://www.whistlehog.com/m3/
| | |
| --- | --- |
| M-POWER | Todd - Saturday, May 21, 2005 | 08:58 |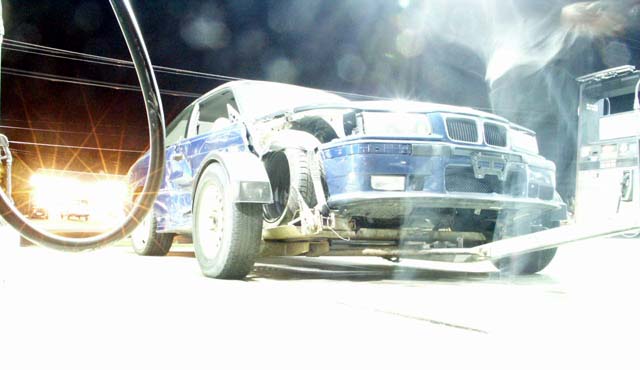 CHAPTER 1

After months of searching for a heavily damaged 95-99 M3 as a donor for our 325is race car, one finally popped up on eBay for the right price: $3900.

The most immediate problem was the car's lack of wheels. I frantically searched through the major BMW forums -- bimmerforums.com and roadfly.org. Bimmerforums ROCKS! roadfly does not.

After paging back to April 4th in the wheels/tires section of bimmerforums, I came upon a listing for 2 or 3 replica LTW M3 wheels with tires for $30! Even better the seller was in Westchester, NY! I am all over this.

I fired off a couple patented crazyman emails (mostly in CAPS)... about how I needed the wheels YESTERDAY and I was willing to do anything to get them. I tripled his asking price to get his attention and reinforce my seriousness.

Luckily, the guy selling them was very punctual. He got back to me by the next morning (all you can really hope for with email, right?) and I arranged to pick them up that night at 9pm.

A little digression... In 1983, The Police released their 4th album: Synchronicity. Here's a snippet of the title track:


A connecting principle

Linked to the invisible

Almost imperceptible

Something inexpressible

Science insusceptible

Logic so inflexible

Causally connectible

Yet nothing is invincible


It turns out that Karl needed a lift up to Scarsdale to pick up his truck so we could tow the M3 home from Jerkwater, VA the NEXT DAY. I left work, got to Karl's at around 8pm (he just got home from work) and we rolled up to Scarsdale.

We agreed to meet at the Staples® on Central Ave. Karl was unsure of which direction to go on Central so as I was looking around, I saw a black CTS-V (the wheel guy's car!) in the right turning lane!

In the Staples® parking lot, he broke the news to us that he only had 2 (mismatched) wheels with tires. Oh well.

I asked, "How much do we owe you then?"
He replied, "Don't worry about it."
I was like, "Huh?"

So there are cool people in the world after all! Faith in humanity restored, I dropped Karl off at his truck which was less than five minutes away. On the drive home, I think about the fun we'll be having at this hour tomorrow!

Synchronicity. Weird.

CHAPTER 2

Although I now had 2 17" M3 wheels, I still had a problem: I needed 4 total. I called the seller and asked if it had the spare - no dice. So I pulled the spare and the back wheel from the 325is. I mentally prepared myself (and Karl) for the eventuality of having to yank the M3 calipers to make the 15 inchers fit after a 7 HOUR DRIVE.

We did the usual car pickup/road trip rituals: dunkin donuts®, tow dolly pick-up, snacks, CDs, etc. We were on the road by 9am. Since we had already done the Iron Pipeline when we picked up the 325is, I figured I wouldn't need to consult the Mapquest® directions or a map. After several small detours and several hours of driving, we made it to Kinsale, VA - a small town on one of the panhandles between the Potomac (north) and Chesapeake Bay (east).

It should be noted that the country in this part of the world is beautiful: Long rolling hills, lush fields, big farmhouses, etc. It was particularly nice since we had just driven through 2 hours of sprawl/strip mall hell on Maryland's Route 301. My latest pet peeves: those tin/steel car ports ($595 installed) and Mexican fast food restaurants that are built to look like they came directly from ol' Mehico (On the Border, et al).

Back to Kinsale and the M3… The seller's place is a modest used car lot with the usual suspects sitting out front: 80s Lincoln Continentals, 90s Chevy Cavaliers and Berettas, etc. Karl says, "Why the hell does this guy have the M3!" It turns out that he sells the high-end cars on ebay in a partnership with his son...

We greet and make introductions; all the while craning our necks into the garage for a look at the sapphire jewel from der fatherland.

CHAPTER THREE

The M3 is up on three jacks. The hit looks way worse than the eBay® auction pictures; I think if someone else had purchased it to rebuild, they would have been a little taken aback. But then again, there are a lot of dreamers out there! Screw them.

The passenger A-pillar took the hit… hard; so bad, in fact, that the driver's door doesn't close right! When you look at the windshield of the car from a distance greater than 30 yards, it's clear that the passenger side of the windshield is about 20 degrees out of whack and the roof is a bit pushed up.

We didn't care about the body damage. We did care about the condition of the engine and suspension, though. So the seller threw the jumpbox on and we started 'er up.

TICK TICK TICK TICK TICK

I said, "She's got a bit of a tick." I was thinking, "That should settle down in a few seconds."

TICK TICK TICK TICK TICK
TICK TICK TICK TICK TICK
TICK TICK TICK TICK TICK
TICK TICK TICK TICK TICK

Houston, we have a problem. Karl did all of his used car inspection rituals: sticking his ear into the oil filler opening, inhaling the exhaust, licking the radiator cap, etc. We were hoping that it was just an exhaust leak/bad igniter/bad injector etc, but it was loud and very mechanical sounding. And it did not go away after we let the car run for about 20 minutes.

While the car was running, we took a good look around. As with most of the salvage cars we've seen, this one is in good shape except the damage from the accident. It had been in an accident (documents found in the car later reveal it was a $2867 repair!) prior to this one, but what do we care; everything appears to be in working order. The sunroof even works -- A first for Karl and E36 BMWs!

The TICK still has not gone away. So we shut the car off, let it sit for a few minutes and turn it back on.

TICK TICK TICK TICK TICK
TICK TICK TICK TICK TICK
TICK TICK TICK TICK TICK
TICK TICK TICK TICK TICK

Since we are buying this car for basically the engine, this is important. I'm initially unsure if we should go through with the buy. But we don't want to leave empty-handed with 18 hours and $250 in tolls, gas, rental, etc. So we cut a deal with the seller and start getting the car ready for the long ride home.

The M3 wheels go on the back of the car with absolutely no problems. We remove the calipers from the front of the car and stick our 15 inchers on. Problem: the rotor is too big for the 15s! Solution: invert the spare tire. The M3 now has a wide-body appearance on the passenger side. Another problem, we cannot invert the regular wheel: the hub tapers on the outside lip. I wish I had a Dremel® right now! We leave the lugs on very loosely so the wheel spins a little bit but eventually locks up. Luckily the M3 has no problem pushing the dead wheel...

After a bit more nonsense, we get the car loaded on the tow dolly. Karl is the master of moving large objects around. It's amazing to watch him work. He's such a dynamo that all you can do to help is stand back and hand him the tools.

CHAPTER FOUR

We pull out of Kinsale at around 6:30pm.

Seven hours later, we pull into my driveway. Leaving the car on the tow dolly, I'm asleep within 30 seconds of laying down. It has been a very tough, but very rewarding, 36 hours.


(5)
| | |
| --- | --- |
| Pwned by NYS DMV | Todd - Sunday, May 01, 2005 | 10:36 |
Not really 'owned' but the nether regions still hurt.

If you remember, we purchased the car with ALL the glass smashed out. Since it had been sitting for over 3 months, some moisture had leaked in and caused the first 2 figures of the VIN tag (located on the dash/lower right windshield) to rust away. NYS DMV does not allow a car to be titled with a defaced VIN so we had to remove the windshield that we just installed so they could reVIN it.

This is THE definition of "jumping through hoops".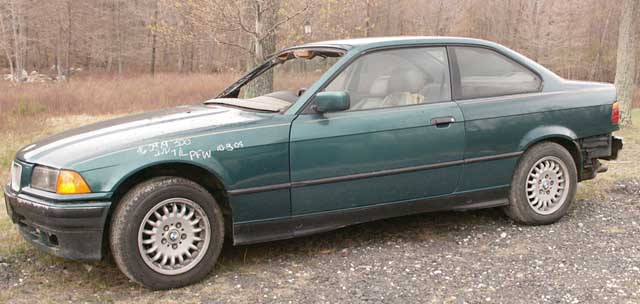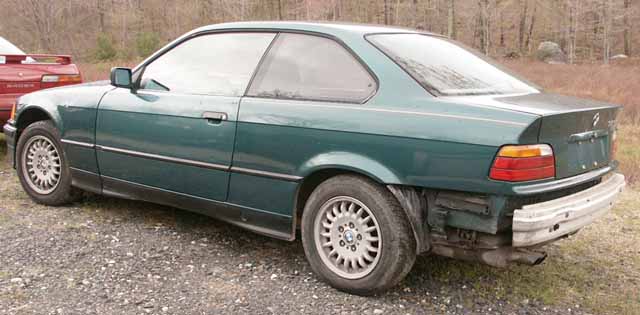 We pulled the windshield, bumper cover and inner fender lining the morning before the inspection; so we didn't waste that much time. Additionally, we only spent 1.5 hours at the facility this time. The mechanic/inspector who looked over the car was actually pretty cool, too. He asked me how much I got the car for -- When I told him, he thought it was a pretty good deal.

Speaking of deals, we now know the final cost of our BMW: $1761.30 (spent $125 for tow and re-VIN). Given the shape of the car, this is a bit ($250 to 500) below the going rate on eBaymotors.com.

So I guess we did get a 'deal' in the end. The crazy thing is the cost of the car and glass was less than $950. It was all the other stuff: fees, DMV, tax, towing that really zapped us. If you don't need to title your race car, salvage is definitely the way to go.
(0)
| | |
| --- | --- |
| NY 907A Salvage Inspection | Todd - Tuesday, April 19, 2005 | 07:35 |
So we took the car to the NY 907A salvage inspection.

We failed. More about that later.

Since NYS doesn't really tell you what happens at the NY 907A salvage inspection, there are a couple of myths that I'd like to clear up:

Myth: It takes forever to get a car inspected.
Reality: It takes less than a month to get an appointment for your inspection.

Myth: The staff at these facilities are evil.
Reality: I was treated with nothing but the utmost professionalism; the process could be outlined better at the facility though. They do have guns, handcuffs and badges though; so if you have a stolen part on the car you might want to think twice.

Myth: If I have a missing VIN #, the inspector will simply slap a new VIN # on the offending part.
Reality: If the part is completely accessible, *they might*. Otherwise, you must remove anything that obscures the offending part and come back at another date. If you have a non-VIN'd part, you might want to go down to the facility where the inspection is scheduled and ask some questions. They might not like it, but at least you'll get some answers.

It's odd that NYS does not have any phone number or information outlet for these sorts of questions/problems. It's one of the things that makes this process very daunting.

Myth: You can't drive your salvage vehicle to the inspection center.
Reality: Althought the vehicle will need to pass a safety inspection at your local garage, you can apply for a 5-day transporter plate to go to the salvage inspection. If you have a buddy with a dealer plate, YOU CANNOT use the plate to take the car to the inspection.

Anyhow, the 325 failed for several reasons:
The VIN tag under the windshield had some corrosion on it so it was considered defaced/damaged. NYS cannot release a car with a damaged VIN tag so we need to pull the windshield out and bring the car back so it can be re-VIN'd. I believe this was the main reason the car failed.
The front driver's side fender had no VIN #s on it. I need to remove the inner fender lining so the inspector can complete the investigation and re-VIN the part.
The passengers quarter panel has been replaced. I need to remove the rear bumper cover to the inspector can complete the investigation and re-VIN the part.

In our naivete, we thought that a 14 year-old car with 201K miles would have been given some leeway as far as non-VIN'd parts -- WRONG.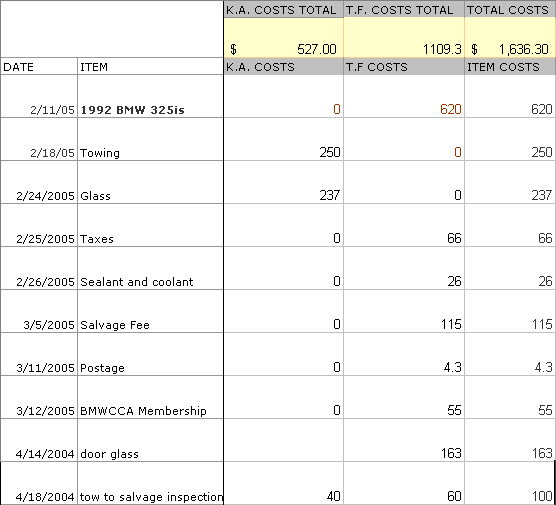 As you can see from the above spreadsheet, what started out as a good deal ($525) has blossomed into a not-so-good-deal. I'm not sure I would've paid $1636.00 for a 92 BMW w/ 200,000+ miles and a salvage title... But now that we are neck deep, the only direction to go is onwards!
(0)
| | |
| --- | --- |
| The Car | Todd - Sunday, April 10, 2005 | 10:53 |
Since our salvage inspection is coming up, we have most of the glass in the 325 finally: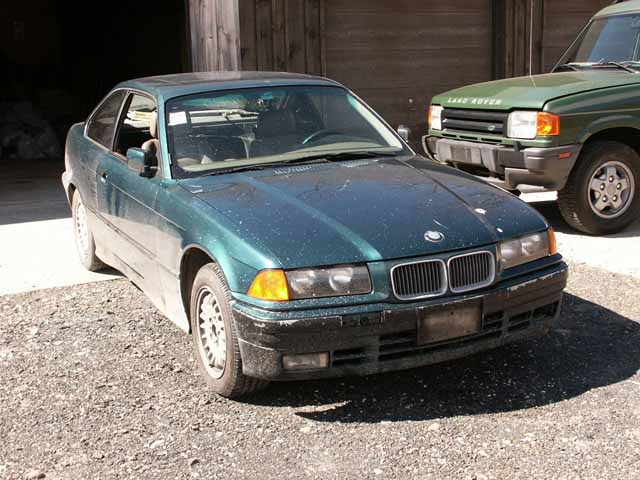 Since the car is now driveable, we took it on its first real test drive. It revealed alot of problems: grinding from the rear (guibo? diff?), warped front rotors, totally clapped out suspension (call me Ishmael) and a most troubling lack of acceleration.

This car is slow.

OK, it's not Ford Festiva slow but it is nowhere near sports car fast. The BMW people would like you to believe that this car is a sport sedan or coupé. My test drive left me wondering where the sport went. A friend of mine had a 2001 330CI (230hp) and it was f-a-s-t. I was hoping for similar acceleration from the lighter 189hp E36 -- wrong.

I've begun the process of trying to find a late-model (98-99) completely totalled E36 M3. The car must run and drive, have a 5-speed transmission, have most of its suspension intact and it absolutely must have the 'vader' seats! I think we can find a car that matches these criteria for under $4K from an insurance auction.

If we sell off $2K in M3/325is parts, we will have a 98+ M3 for under $4K. Not a bad deal methinks.
(0)
| | |
| --- | --- |
| Things Heat Up | Todd - Sunday, April 10, 2005 | 10:46 |
Several things of note have happened over the last couple of days:
Karl and I bought our first moneymaking car (1994 Land Rover Discovery -- makes me realize how much I hate these vehicles in particular *and* SUVs in general). It needs about a million little things before we sell it but it's in pretty nice shape.
Our NY 907A salvage inspection appointment is April 18th. Our used-car dealer/captain, JD, informed us that we could not use his dealer plate to bring the car to the inspection since it was being registered in my name. We will need to have the car towed -- had I known this was the case, I could have applied for a transporter temporary tag... You know what the say about ASSuming.
The 11thhourracing.com website has finally launched. You can see a short (2 min, 40 sec) clip with some of the Targa action if you visit the site. Note: I am not affiliated with 11thhourracing.com in any way, shape or form.
I met up with the film crew from our 2004 misadventure. Paul Maloney and Dan Zimmer provided excellent support last year -- I think it would be great to have a real, dedicated support crew this year. We just need a more fuel efficient vehicle (*NOT* Jim Turner's 48 foot long Hummer limo/manliness extension)...

(0)
| | |
| --- | --- |
| BMW CCA Membership | Todd - Sunday, April 10, 2005 | 10:18 |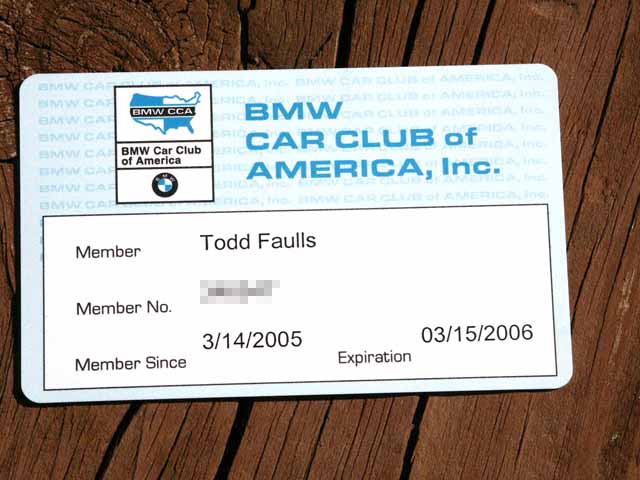 "I don't care to belong to any club that will have me as a member." — Groucho Marx

About 3 weeks ago, I recieved the BMW Car Club of America membership in the mail. The envelope included a club card (see above), CCA bylaws and a brochure with all the benefits of membership. To be honest, I had read most of them online before purchasing our membership: track time (autocross, etc), driver schools, Roundel magazine subscription, technical service advisors and friends of BMW.

I talked with Karl about track time and driver school. He seems to think that he doesn't need any driving instruction ("C'mon it was all the car's fault!") and that dialing-in the BMW can be accomplished on empty late-night city streets. Both are very strange conclusions -- I need to work on him about this.

I got my first Roundel magazine in the mail yesterday and I can truthfully say that the cost of club membership alone is worth the subscription to this magazine. Lots of geeky BMW articles, tech info and a gorgeous layout/expensive production to boot! Now, if the folks who produce this high-end magazine would turn their attention to the BMWCCA.org website...

Another funny thing is the Friends of BMW. It's basically a directory of people across the US and Canada that are willing to help out a BMW CCA member in, I think, mechanical need. I jokingly told Karl that I signed him up for it. When I explained what it was, he lost his cool. I'd love to read some of the crazy stories about the Friends of BMW. After a few too many calls, you'd probably want to join the Enemies of BMW.

On a closing note, I got a generic welcome email from the local CCA chapter president, Scott Stowell. I immediately emailed him back and introduced myself and our plans to campaign an E36 at Targa in 2005. Scott replied very quickly with warm wishes. I'm very excited to get together with the local BMW types when we finally have the car on the road... or maybe I'll terrorize them with my 280hp SR20DET 240sx S13 beforehand!
| | |
| --- | --- |
| Man, You Screwed That Car Up! | Todd - Wednesday, March 16, 2005 | 01:02 |
You RUINED THAT BMW!

Karl and I have been talking about what we'd like to do to the BMW. I want coilovers and M3 wheels. Karl wants Twenty-twos, projector headlights and gold flake paint.

Just kidding.

We are on the same page: Make it fast AND bad ass looking. We want the car to be the embodiment of the "Absence of Light"...


Black Wheels

Black Interior (or what's left of it)

Low-Gloss Black paintjob

Black Vinyl Team Stickers (sponsor stickers in any color you'd like!)

Black helmets & fire suits

Karl also had a loopy idea about cutting the 'kidney' grill center section out. I did a photoshop to see what it would look like: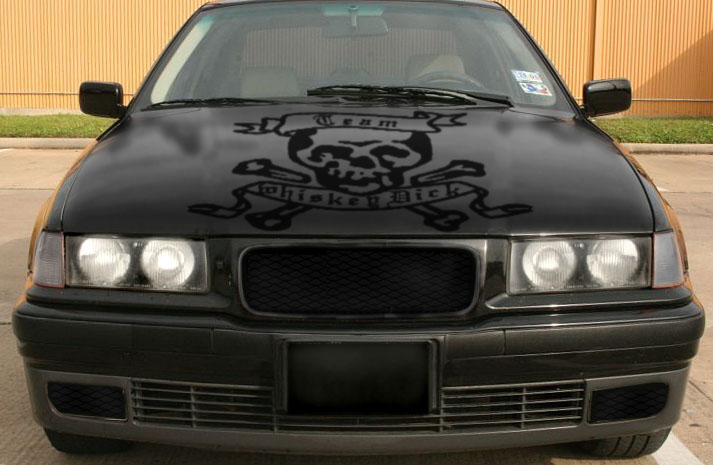 What do you think? Kinda frightening!
(0)
| | |
| --- | --- |
| Glass from Bartertown | Todd - Tuesday, March 15, 2005 | 23:20 |
Wow, I'm not very good at the Blog thing. It's been over 2.5 weeks since my last post. Oh well.

So the Targa Newfoundland 2004 spot aired on Speed TV last week. Karl and I actually got some serious screen time in our, ahem, 600hp supercharged Mustang. It was mostly Karl -- I really think he crashed the car so we'd be on TV. What a ham. :)

Over the last couple of weeks, we made some strides on the BMW. We got most of the glass for the car;however, this was not without incident. We got the front, rear and side glass from Sambucci Brothers in Corona Park, Queens. The rear and side glass went in without problems. The front glass DID NOT fit. The Sambuccis gave us SEDAN glass -- we found out the hard way that the E36 Coupé and the E36 Sedan are TWO DIFFERENT CARS.

So we went back to Corona Park and returned the used windshield; naturally, we asked the Sambuccis if they knew of another place to get the correct windshield from. "Go across the street. They'll help you out."

Columbia Auto Glass said they could get us a brand new windshield for $100. This was only $19 more than the used piece from the Sambuccis... As Jon Ackerson would say, "Done Deal."

While we were waiting for the Columbians to receive the windshield, we took a tour of Corona Park, Queens.

Corona Park is, most notably, the home to the Mets and Shea Stadium. A half mile directly behind home base, there is a 4 x 4 block radius of car-related 'businesses'. The ones that are on the outside perimeter of this 'neighborhood' appear to be very respectable (like the Sambucci Brothers), the shops/streets in the interior of this 'hood resemble a set from a Mad Max/The Road Warrior movie: half-stripped, abandoned late-model autos and piles of junk car parts litter the streets, the roads themselves put the Range Rover we were driving to the test, men huddled around trough-shaped steel structures with god-knows-what burning in them, tons of shady looking used cars, lots of overspray, etc. A TRULY CRAZY PLACE.

Last weekend, we put the windshield in and the BMW went into hibernation until we get an appointment for the NY 907A Salvage inspection...
(0)
THE PAST
Last September, Karl Apfel and I competed in Targa Newfoundland. Someone once said, "Racing makes heroin addiction feel like a craving for something salty." Where do I sign up!?

TARGA NEWFOUNDLAND 2004
A friend of ours, James D. Turner of Donation Vehicle Program, had an extra ticket to Targa 2004 AND an extra car to drive in the event. When he offered it up to us, we thought about it for about 30 seconds.

"HELL, YEAH! We'll go!"

The car was a 1990 Mustang GT with a rollcage. That's it. Also, it was pretty neglected; it had been Mr. Turner's Wally Vusich's (Wally is the son of Mr. Turner's Co-driver: Karl Vusich) daily driver for 8 of the last 10 years. The other 2 years, it sat in a parking lot rusting away.

We had less than 2 WEEKS to get the car into fighting shape; a test drive revealed that the car needed:
brakes
suspension
exhaust
tune-up
I immediately set about ordering the bare minimum of items that the vehicle would need. Here's my laundry list:


Item
Vendor
Cost
Shipping
Tokico HP Shocks/Stuts
ebay: JDMWerks13
260
45
Hawk Brake Pads
maximumautosports.com
100
20
Ford Racing Springs
Summit Racing
140
20
SS Brake Lines
Summit Racing
72
20
FR/RR/K Braces
ebay: tru-speed
200
54
Sub-total
772
159
Total
$931.00

Luckily, everything arrived before we left; however, the night before our departure, we were still wrenching on the Mustang...

THE RACE
The Rustang did not pass the Targa tech inspection -- we had a 4-point rollcage. The rules clearly state that a 6-point is compulsory. Luckily, the organizers and Newfoundlanders provided excellent support. They hooked us up with a local guy, Shady Dave, who was willing to fab up the remaining points for our cage in 24 hours time (for a reasonable price too!).

At the very last minute, we got the car tech'd and were able to race.

DAY 1
The first day of racing was totally awesome: 100mph+ on closed public roads. Full throttle passes through tiny fishing villages. We were officially hooked!

DAY 2
The violent jolting of the washboard Newf roads threw our fuel gauge WAY off. We ran out of gas and missed a stage. Oops.

DAY 3
We were really getting into it -- 125mph on backroads! Incredible. Until we need to make a right turn...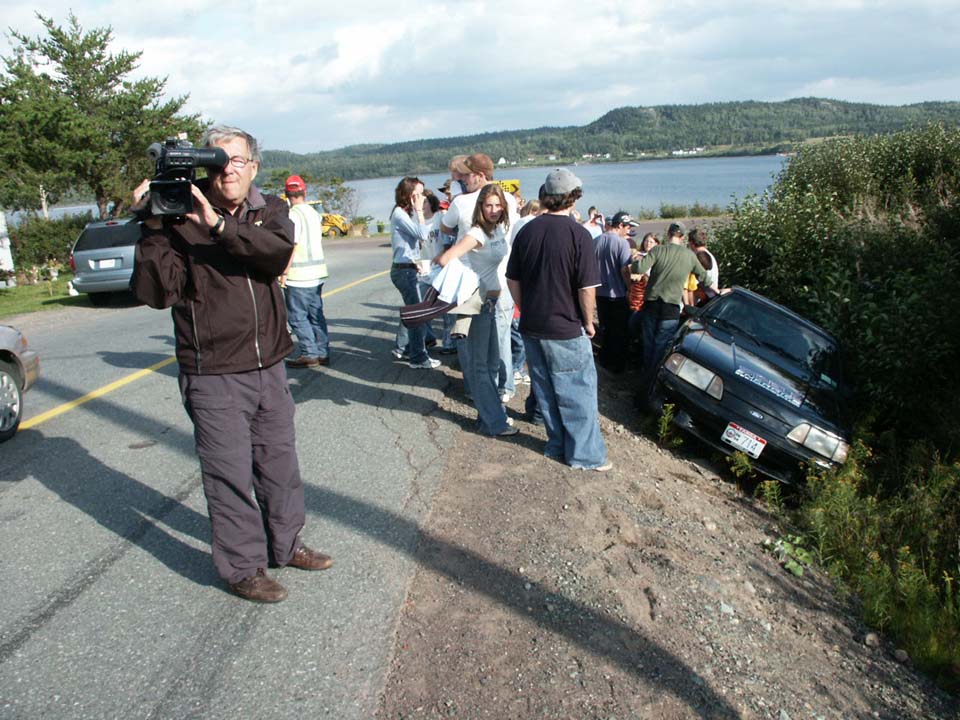 The only damage from the trip into the ditch was a small ding in one of the tires. A trip to the Canadian Tire in Gander revealed that both of our front rotors were cracked and the exhaust was terminally broken. We replaced the rotors and wired up the muffler...

DAY 4
The Rustang was back on the road and our spirits were high. The whole trip (we drove to Newfoundland from upstate NY), the clutch made a small

POP!

when it was depressed to the floor. Curious... In the middle of the 3rd stage of the day, Karl engaged the clutch and the clutch stopped working! He power shifted the car through this stage and the next. During lunch we tried to diagnose the problem. A fellow racer/fox-body Mustang enthusiast, Huw Evans, thought it might be the clutch adjustment. We monkeyed around with it for an hour with no success. We resigned for the day and had the car towed back to Marystown.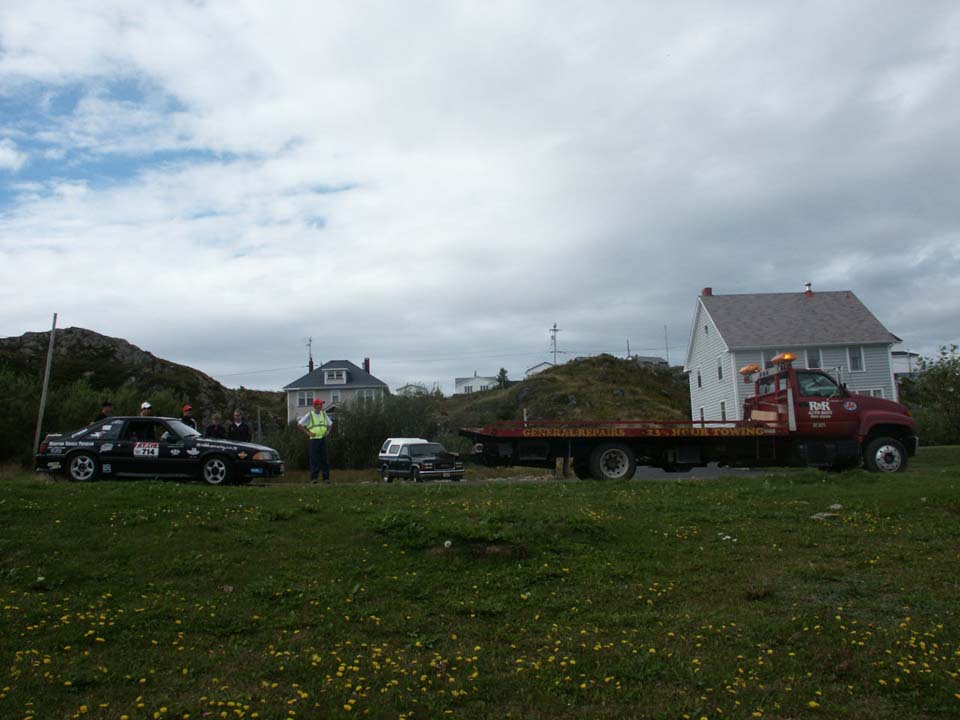 We did a more thorough inspection back in Marystown: the bellhousing is filled with a steel wool-like substance! Without a replacement clutch available, we were forced to resign from the race...


---
TARGA 2005
The natural choice for a return to Newfoundland would be the Mustang: it's halfway there. It just needs a bit more oomph: better brakes, better steering, better suspension, more top end power, etc. The aftermarket is very comprehensive, it is also very expensive. We start brainstorming other cars:


Rabbit GTI with a 1.8T engine (Too much work and it's still FWD).
E36 BMW (too expensive)
S13 240sx w/ SR20DET (my daily driver and I don't want to destroy it)
Late-80s Audi V8 (too fine for mere mortals like us!)
944 Turbo (too expensive, complex)
Sentra Classic SE-R (FWD, not enough wine and cheese)
Range Rover HSE (best vehicle for Newf roads alas SUVs aren't permitted)
Porsche 914 (yikes)
1974 Dodge Dart (needs too much work)
1979 320i (yuck!)
Datsun 510 or 240z w/ SR20DET (impossible to find rust-free examples w/o $$$$$)We added a few other cars to the 'maybe' list: 80s Supra, E30, etc and kept our eyes peeled.

Three weeks ago, a 1992 BMW 325is came up on Salvagedirect.com. It had high mileage and all of its glass had been broken out.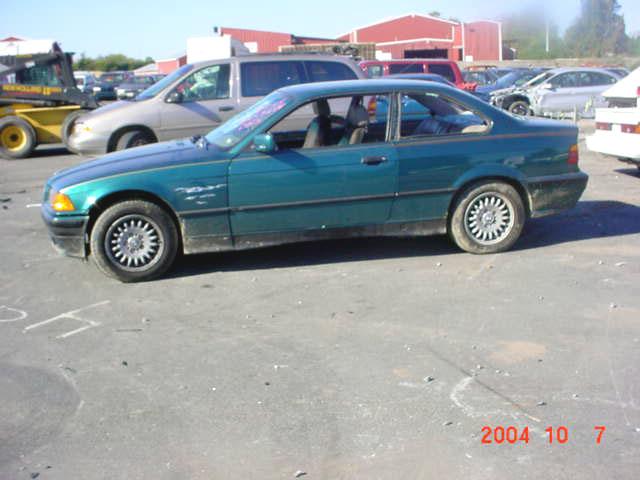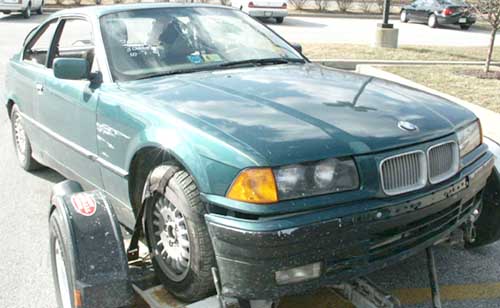 $525 later, and we had our race car! It's somewhat clean (bad interior and those are 'flame' stickers on the fenders!) and it runs well. We need to push it through the NYS DMV Salvage process before we start hooking it up for the race... It'll probably take about 3 months to get the Dubya legal. But when we do, we'll start the race build-up!

Stay tuned!
Posted by Todd on Sunday, February 27, 2005 at 16:55 Comments (0)

©2005 Whistlehog.com; All Rights Reserved.
sciamop@hotmail.com